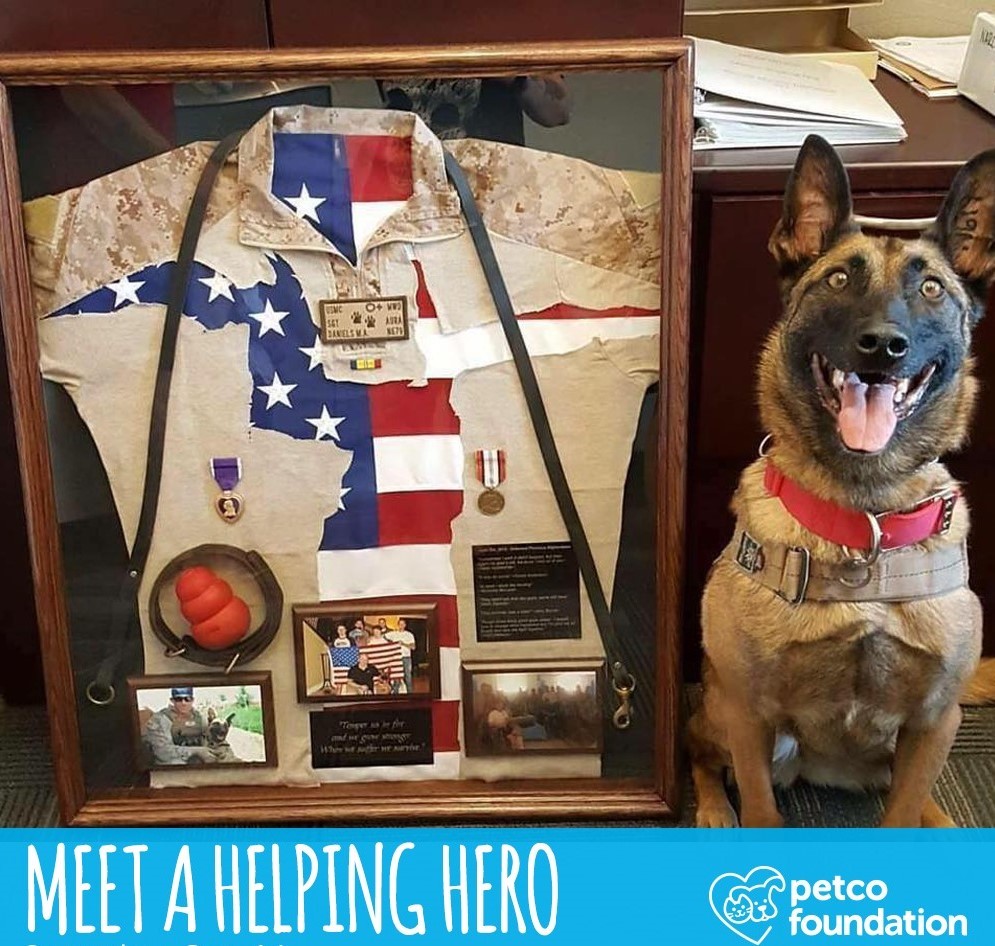 The Petco Foundation is investing $5,000 in MWDTSA's care package program! This grant will help purchase supplies that can be hard to find in a combat environment. We send items such as thermometers, paw protection, grooming products, and collapsible water bowls to enhance safety and comfort for our four-legged troops. Many of the teams we support serve in remote areas and harsh climates. They regularly tell us they value the supplies we send each quarter.
Since its founding in 2006, MWDTSA has sent over a million dollars of care packages to deployed MWD teams. "These packages are the only piece of mail that some MWD teams will receive during a combat deployment. This grant from the Petco Foundation is an integral part of our quarterly care package program. We are grateful for the steadfast generosity of the Petco Foundation and their supporters," said Nikki Rohrig, MWDTSA's President.
The Petco Foundation's annual Helping Heroes campaign funded the MWDTSA grant. The campaign, which takes place each October in Petco locations nationwide, supports the life-changing work of service, therapy and working animals.
For more information about MWDTSA, visit https://www.mwdtsa.org/. For more on the Petco Foundation, visit petcofoundation.org and join the conversation on Facebook, Twitter and Instagram by using the hashtag #HelpingHeroes.
###
About Military Working Dog Team Support Association, Inc.
A national, all-volunteer 501(c)(3) nonprofit, MWDTSA supports Military Working Dog teams in the Army, Navy, Air Force, Marines, and Coast Guard. Each team consists of a dog and a handler, and their mission is force protection—explosives detection, tracking, patrolling, specialized search, and drug detection. They put their own lives at risk to save the lives of other soldiers and civilians every day. To learn more about how you can help MWDTSA support both ends of the leash, contact president@mwdtsa.org or visit https://www.mwdtsa.org/.
About the Petco Foundation
At the Petco Foundation, we believe that every animal deserves to live its best life. Since 1999, we've invested more than $260 million in lifesaving animal welfare work to make that happen. With our more than 4,000 animal welfare partners, we inspire and empower communities to make a difference by investing in adoption and medical care programs, spay and neuter services, pet cancer research, service and therapy animals, and numerous other lifesaving initiatives. Through our Think Adoption First program, we partner with Petco stores and animal welfare organizations across the country to increase pet adoptions. So far, we've helped more than 6 million pets find their new loving families, and we're just getting started. Visit petcofoundation.org to learn more about how you can get involved.
https://www.mwdtsa.org/wp-content/uploads/mwdtsa-blog-petcophoto-20200114.jpg
946
995
MWDTSA
https://www.mwdtsa.org/wp-content/uploads/mwdtsa-website_headerlogo-01-2020-300x138.png
MWDTSA
2020-01-14 09:37:28
2021-04-18 23:17:55
Petco Foundation awards $5,000 grant to MWDTSA