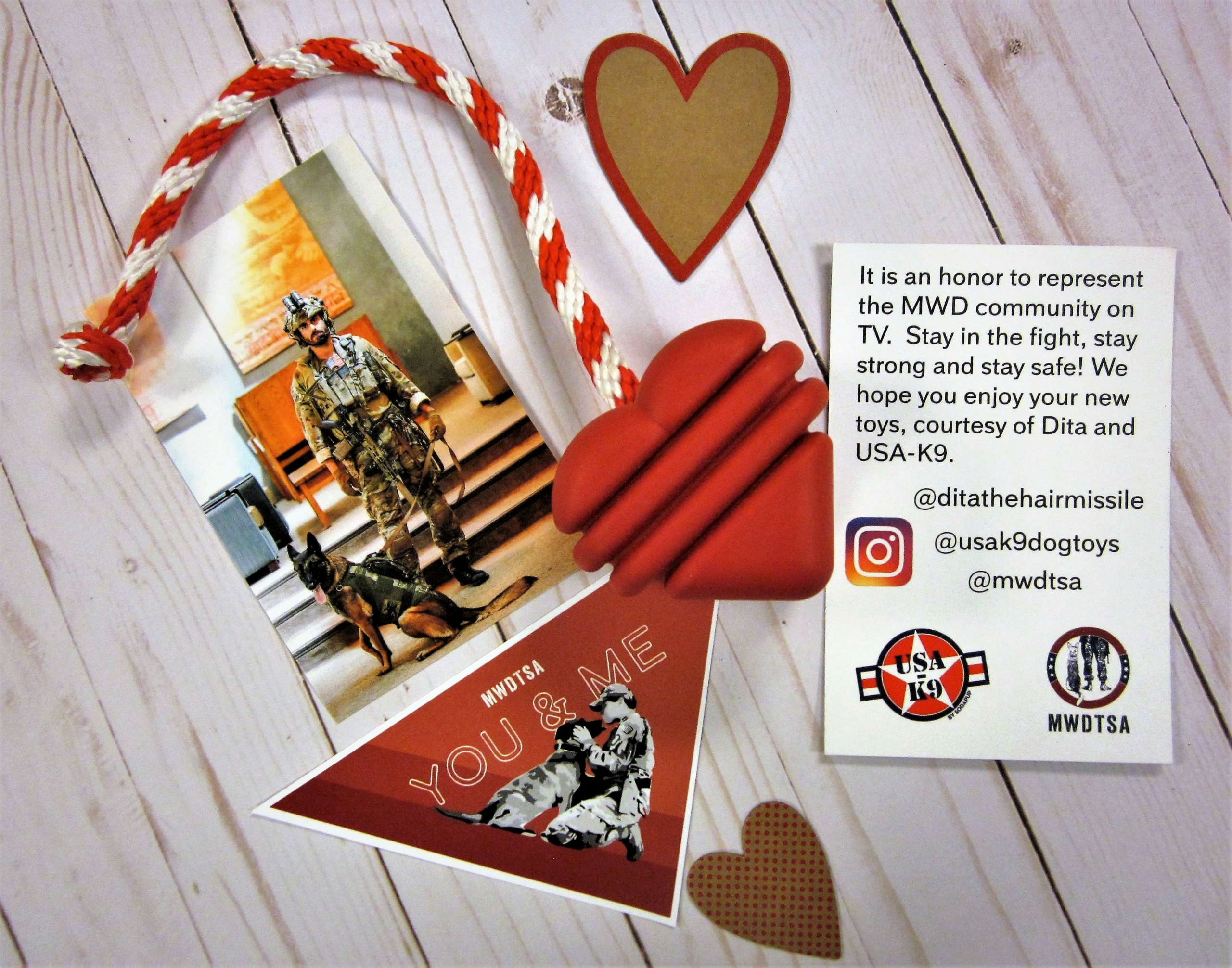 We often say, "It takes a village" to fill our quarterly care packages. Four times a year, we send out approximately 200 large USPS Flat-Rate boxes, and we aim to fill them completely. Many thanks to the following Q1-2019 corporate donors…
Scout Troop 171 in Boulder, Colorado periodically sells coffee to raise money for backpacking trips and Scout camps. This year, they added an option for non-coffee drinkers—the opportunity to donate coffee for MWDTSA care packages.
Creative collaboration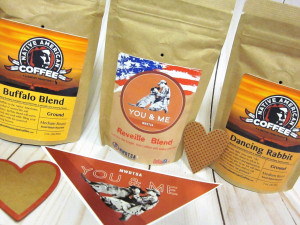 Sticks Coffee in Superior, Colorado also hosted a coffee fundraiser. As patrons streamed in from hockey tournaments, the cashiers asked, "Would you like to add a $10 donation to your purchase today to send coffee to a deployed military working dog handler?" Signs on the doors and at the register invited customers to take part in the drive.
Meanwhile, 822 miles away, Coffee.org of Fort Smith, Arkansas offered a stunning bulk purchase discount. This allowed donor dollars to stretch further to cover 100 percent of MWDTSA's Q1-2019 coffee needs. We sent three small bags of coffee in each Q1 box, including a special blend that Coffee.org formulated specifically for MWDTSA. The label featured our "You and me" Q1 logo and the words "Reveille Blend: Just like the bugle, this coffee will wake you up!"
A neighborhood effort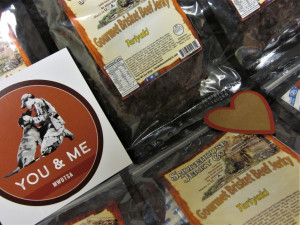 A post to the Oh-Oh-Two-Seven Facebook page, which serves zip codes 80027 and 80026, brought forth additional offers of help. Louisville Realty Associates (LRA) asked about our greatest Q1 needs. We had not yet secured Q1 jerky donations for handlers or dogs, so they took on that activity.
The same week LRA stepped forward, Smokehouse Jerky of California offered another generous bulk purchase discount. LRA, Nickerson Marketing, and Deep End Solutions pooled resources to fund the jerky purchase for handlers. Additionally, LRA made a personal introduction to a friend at Buckley Pet, a local dog treat manufacturer. Buckley Pet donated 200 bags of Skin & Coat Beef Jerky, enough to send one in every care package.
For the handlers…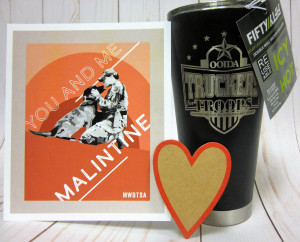 OOIDA (Owner-Operator Independent Drivers Association) of Grain Valley, Missouri sponsors a "Truckers for Troops" fundraiser each year. Taking advantage of a generous discount from FIFTY/FIFTY, OOIDA purchased 200 coffee tumblers for our Q1-2019 boxes.
We stuffed these 20-ounce tumblers to the brim with donations from Juanita's Pepitas, Perfetti Van Melle, Phillips Pet Food & Supplies, Picky Bars, Sweetwood Smokehouse, and VerMints.
Other handler surprises included dried apricots from Mariani Packing Company; Blue Diamond Smokehouse Almonds; Honey Stinger waffles; Cocomels from JJ's Sweets, Inc.; cooling wipes from Duke Cannon; and magazines from 5280.
Each handler also received a t-shirt emblazed with "You and me, Malintine," in honor of Valentine's Day. We are grateful to Christian Print Shop, Inc. of Alpharetta, Georgia for their long-term support of MWDTSA with high-quality t-shirts. And to the five Kohl's employees from the Louisville, Colorado store, who folded all 200 t-shirts into plastic bags with size labels!
The students of Jefferson Academy in Broomfield, Colorado created art to include in the care packages. This school has supported MWDTSA with art three times—Q4-2016, Q4-2017, and Q1-2019.
For the four-legged troops…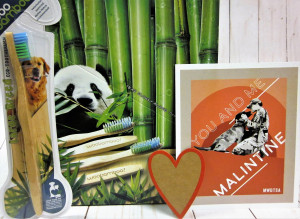 Woobamboo donated Large-Breed toothbrushes for the second year in a row.
A Petco Foundation grant, coupled with bulk purchase pricing from Prima Pets, enabled us to send a sturdy collapsible dog bowl in each care package.
Rex Specs hosted a donation drive in December to collect protective eyewear for our military working dog teams.
"Dita's Donation Drop," sponsored by Dita The Hairmissile, plus a matching program by SodaPup, yielded 200 Heart-on-a-String toys for our Q1-2019 boxes. And yes, these dogs do have our human hearts on a string.
Thanks to the annual KONGs for K9s drive, we included the KONG Extreme Tire in each care package. Numerous retailers and veterinary clinics help with this drive each year—including three that contributed to Q1-2019 care packages in other ways. Action-Packed Pup collected both tires and undercoat rakes. Kriser's Natural Pet in Westminster, Colorado invited us to do an in-store event to collect tires and dog jerky.
A special shout-out to Chuck and Don's Pet Food & Supplies (Longmont, Erie, and Arvada, Colorado). The Longmont store has hosted MWDTSA for in-store fundraising events for 30 straight months. They have taken part in the KONGs for K9s drive for three years. They have led our quarterly care package assembly twice. The managers of the Erie and Arvada stores, along with an Arvada team member, spearheaded our Q1-2019 packing event.
And last but not least…
Hats off to the Louisville (CO) Police Department for hosting our 2019 packing event and allowing us to make a temporary mess in the basement of the police station. We are grateful for your hospitality—two years in a row.
And to the United States Postal Service in Louisville, Colorado for spending a Sunday with us for the second year in a row. It was amazing to have you at the end of our packing line, and you worked tirelessly to get the boxes to the Post Office on a cold night, well after sunset.
Many thanks to all who made the Q1-2019 care packages possible, including a multitude of Amazon Wish List donors. UPS Store 1905 graciously received the many Amazon boxes and manufacturer donations, holding packages for us until we could pick them up. Nashville Wraps provided bags and ribbon for packaging donated candy.
Your contributions allow us to support both ends of the leash, and we are grateful.
Interested in helping with future care packages? Here are 14 ways to get involved, including a link to our Amazon Wish List. Or reach out to president@MWDTSA.org.
https://www.mwdtsa.org/wp-content/uploads/IMG_6769-2-scaled.jpg
2012
2560
Leigh Steere
https://www.mwdtsa.org/wp-content/uploads/mwdtsa-website_headerlogo-01-2020-300x138.png
Leigh Steere
2019-03-20 16:52:54
2022-10-30 10:08:30
"It takes a village"