Q1-2018 packing day recap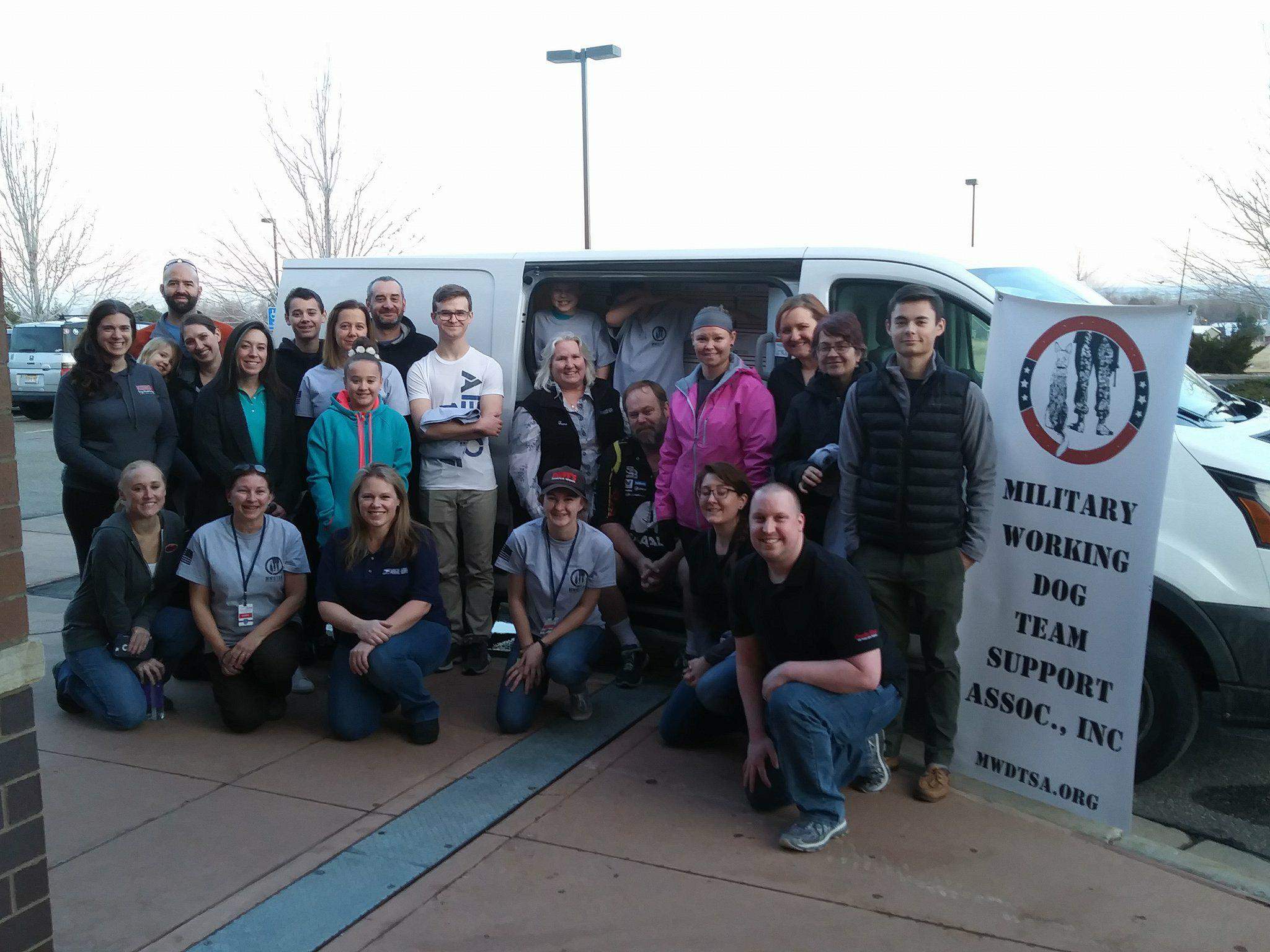 Above: The 24 packing volunteers gather for a celebratory photo after assembling 191 boxes, February 11, 2018.
My mom and I had never taken part in a MWDTSA packing day before volunteering to coordinate the Q1-2018 event. We had seen pictures and read others' Kennel Talk articles, so we had some notion of the steps involved. But there's a big difference between head knowledge and how the journey feels. It was deeply satisfying to watch a mail truck full of care packages drive off into the sunset.
Gearing up

When we started planning 10 months ago, it felt as if we had plenty of time. We reached out to potential donors with letters, emails, and phone calls, asking them if they'd join us in our mission of supporting military working dog teams deployed in conflict zones overseas. For every 10 contacts we made, a company stepped forward with a generous donation. Every one of these "yes" responses filled us with optimism that carried us through moments of doubt.
We often experienced radio silence from the other nine organizations, punctuated with an occasional form letter. "Thank you for contacting us. We receive many donation requests from worthy organizations and only have funds to support a few. Unfortunately, we are not able to provide a donation at this time, but we wish you every best in your mission."
We focused gratefully on the one "yes" instead of the nine who didn't respond or said no. Over 70 individual and corporate donors stepped forward with enough donated products to fill 200 USPS 12" x 12" x 5" flat-rate boxes.
Staging
As products began arriving, we set aside space in our house to store the cartons. One column of boxes quickly became two, then three, then… Suddenly, we had 40 cases of dog toys, dog treats, and handler snacks stacked in the living room, hallway, and basement. And we knew these 40 cases would grow to nearly 100 by packing day.
Our house looked as if we had just moved in and hadn't unpacked…or were preparing to move out. My dad likes order, and I could tell this growing accumulation of boxes was on his mind. The boxes even crept into my mom's dreams, her subconscious pondering the unthinkable. What if there's a flood? Fire. Robbery. Mice. Should we get extra insurance?
As packing day grew closer, we started to think through the logistics of getting all these cartons to our packing location. How many trips would it take? That's when we experienced one of many sweet surprises in this packing journey.
Through happenstance, we learned the Louisville (CO) Police Department had recently used its training room to prepare holiday gifts for low-income families. So, we reached out to ask if they might be willing to let us pack in that space. They not only said yes; they also offered storage space for our growing mountain of boxes, starting nearly a month before our packing event. We were able to move everything out of our house and reclaim the living room (mostly).
Packing day
As we approached our February 11 packing event, it felt as if we had a thousand details and loose ends to consider. Count, re-count. Make checklists so we wouldn't forget important tasks. Contact packing team members with time, location, and logistical information. Breathe deeply.
Chuck & Don's Pet Food and Supplies, Longmont, Colorado, volunteered their entire staff to help on packing day. They did this as a company team-building event. Store Manager Krystal Rineck and Manager Mark Saltzman arrived 1.5 hours early to help with set-up. This included arranging tables, deciding the packing sequence, and moving product into position.
When the rest of the packers arrived, Krystal and Mark organized everyone. The group began assembling care packages at 3:00 p.m. and we finished 191 boxes before 5:00 p.m. It took us another 30 minutes to breakdown cartons for recycling.
Packing these boxes was an amazing experience and a way to say thanks to MWD teams for the sacrifices they make to keep our nation safe. It was exhilarating to be part of this team effort, and we're ready to sign up again!
For more information on how you can support military working dog teams, visit https://www.mwdtsa.org/.
Photos by Anna Steere and Leigh Steere
https://www.mwdtsa.org/wp-content/uploads/mwdtsa-q1-packingphoto4-20180221.jpg
1536
2048
Leigh Steere
https://www.mwdtsa.org/wp-content/uploads/mwdtsa-website_headerlogo-01-2020-300x138.png
Leigh Steere
2018-03-01 23:30:14
2020-04-04 16:16:45
Q1-2018 packing day recap