Photographer Dick Durrance encourages support of active duty troops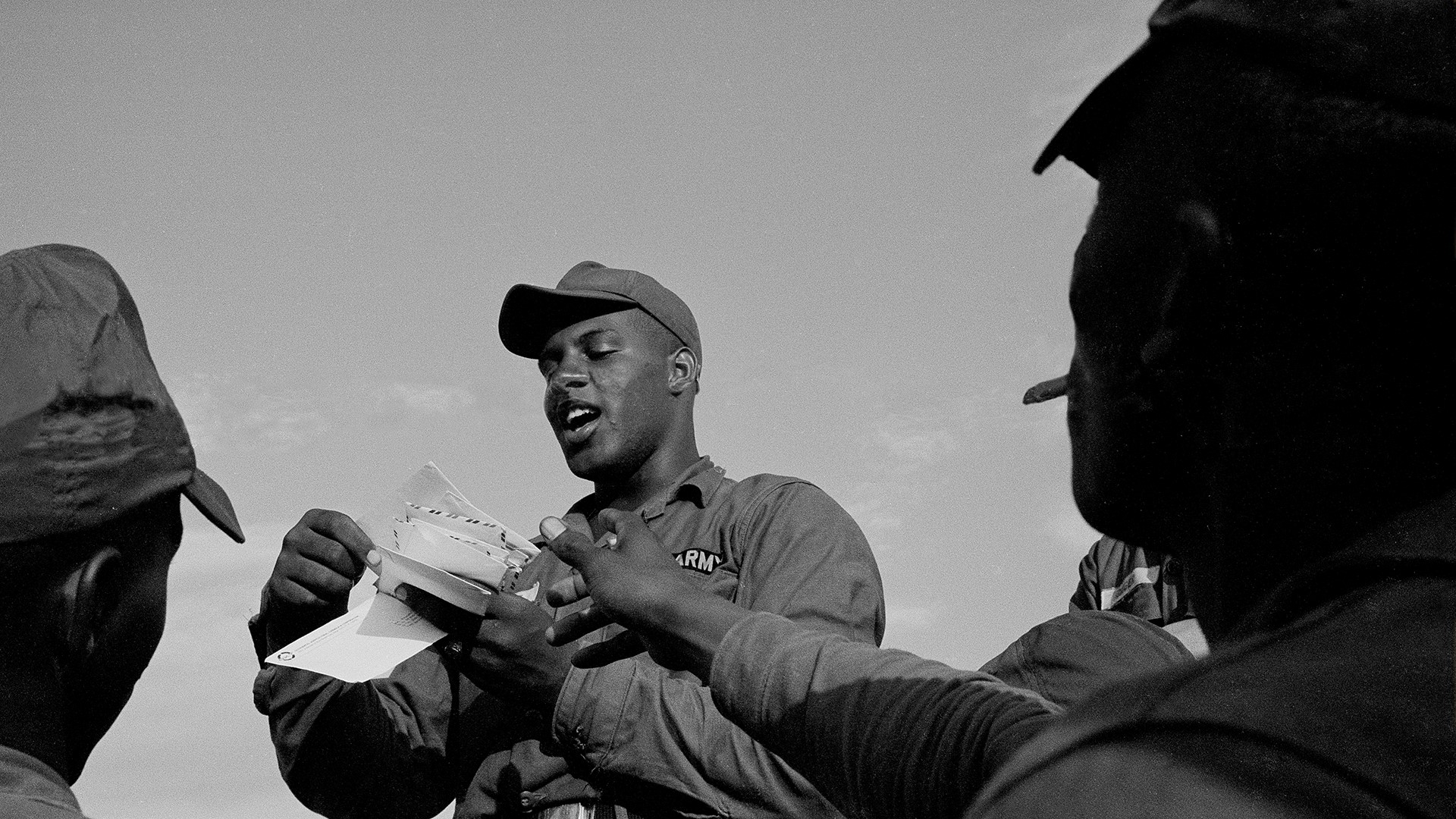 Dick Durrance served as an Army photographer during the Vietnam era. Today, at age 75, Durrance is on a mission—to raise public awareness about the challenges of serving in a combat environment. Through photos and speaking engagements, he shares words of wisdom on how people can support today's military. His recent TEDxTalk brought 5,000 people to their feet.
As you'll see in the interview below, his family has a tie to the 10th Mountain Division, Camp Hale, Colorado. MWDTSA's Q1-2018 care packages are commemorating the 75th anniversary of Camp Hale, and we were excited to learn about the Durrance connection.
Kennel Talk (KT): Tell us about your role in the Army.
Dick Durrance: I served in the Department of Army Special Photographic Office. Based at Fort Shafter, Hawaii, I shipped out for three months at a time to take pictures for the Pentagon in Thailand, Vietnam (twice), and Korea. My assignments ranged from photographing equipment, facilities, and terrain to documenting combat missions. The Pentagon used these pictures to brief the President on military activities in Southeast Asia in 1967 and 1968.
KT: Did you ever have a chance to photograph military working dogs?
Durrance: Just once, and the experience left me with a lifelong fear of German Shepherds. While in the Korea DMZ, I received an assignment to photograph the canines. I was young and dumb at the time. One of the dogs was on a 30-foot chain attached to a stake. I had the idea of kneeling 33 feet from the dog and setting the camera focus at three feet. I signaled the handler to release the dog to 'attack' me. The canine bounded toward me with alarming speed, barking ferociously and baring its fangs. Through my lens, all I could see was mouth. He hit the end of the chain, way too close for comfort.
KT: Your dad, also named Dick Durrance, was a famous ski racer. What was his relation to the 10th Mountain Division?
Durrance: When Minnie Dole was selling the idea of creating the 10th Mountain Division, the military had one question. Would it be better to train marksmen how to ski, or teach skiers how to shoot? The military said to my dad, "We want to send you a company of soldiers who don't ski and see if you can train them to ski." They were a test case. Could top skiers in Alta, Utah train neophytes to ski in a reasonable amount of time?
The answer was a resounding NO. After about three months, roughly a third of the skiers had broken their legs. At the time, there were no quick-release bindings. Those had not been invented yet. This failed experiment led the military to conclude they needed to recruit seasoned skiers and teach them how to shoot.
For anyone who's interested, there's a chapter about my dad's Alta experience in his memoir, The Man on the Medal.
KT: On Veterans Day 2017, you gave a TedXMileHigh Talk, and then subsequently took part in an interview with Colorado Public Radio about your time in Vietnam. Here are some of the pearls you shared…
Going through basic training, you asked yourself, "Am I ready for this? I'm about to be melted down and recast as a warrior and handed to the President to do with as he wishes."
"If you saw someone as a mother's son or a little boy's father, could you pull the trigger?"
As you photographed your first firefight, you felt "startled by how loud it was. The roar of the tanks. The boom of the big guns. The rat-tat-tat of machine guns. Deafening and disorienting."
Grappling with what you had just witnessed, you realized you were "going to have to suck it up and somehow come to terms with the fear that comes from fighting."
You noted, "I did it for a day and I was rattled. Those guys did it for a year. What did that do to their minds?"
"One of the riflemen in the unit said to me, 'Dick, there is no more hellish dilemma that we face than taking aim at somebody and not knowing whether they are a friend or a foe. Do you pull the trigger or not? And if you are wrong, how do you deal with that?'"
Timeless advice
Durrance: It's hard to convey what combat is like. Through sharing my photos, I hope to give people a fuller sense of what soldiers go through and how it affects them.
If we are to appreciate what the men and women who are out there fighting right now are doing for us, we have to understand how profound their combat experience is. They risk their lives, face terror, and lose buddies. And when they come home, they somehow have to square what they had to do as warriors to survive with what they are expected to do now. It is not easy.
Even 49 years after returning from Southeast Asia, I will see something random, such as the handle of a manhole cover, which jogs a memory from Vietnam. It will remind me of the guilt I felt when I pushed civilian values aside.
I encourage people to think of every day as Veteran's Day. Put a couple minutes aside to appreciate what our service members are doing for us every day. Try to understand what they are going through and how it's affecting them. And what I hope you never forget is that when war goes into a service member's mind and heart, it never leaves.
KT: As we aim to support today's service members, what are your thoughts about letters and care packages?
Durrance: At basic training, I remember how lonely I felt being unplugged from family and friends. Mail call was a chance to touch base with loved ones. It was a connection to an outside world that was seeming further and further away. At the same time, we knew our family and friends had no idea of the military world. They were remembering us as we were, having no idea of what we were becoming.
It's important to take the time to reach out. It's also important to try to step into the shoes of these servicemen and women in an effort to understand their world.
Many thanks to Dick Durrance for sharing his experiences and insights with Kennel Talk.
********************************
MWDTSA supports military working dog teams (dog plus handler) deployed in global combat zones. To donate toward a care package for these intrepid teams, visit https://www.mwdtsa.org/donations/.
To order a copy of Dick Durrance's 1988 book, Where War Lives: A Photographic Journal of Vietnam, send a check for $20 to Dick Durrance, Post Office Box 1268, Carbondale, CO 81623. Make sure to include your mailing address, email address, and phone number when placing your order. Also, he has copies of his father's memoir, The Man on the Medal, available for $45 each (the price includes postage).
https://www.mwdtsa.org/wp-content/uploads/WWL.Basic_.Mail_.2.16x9-2.jpg
1080
1920
Leigh Steere
https://www.mwdtsa.org/wp-content/uploads/mwdtsa-website_headerlogo-01-2020-300x138.png
Leigh Steere
2018-01-29 12:08:55
2020-06-26 16:16:46
Photographer Dick Durrance encourages support of active duty troops