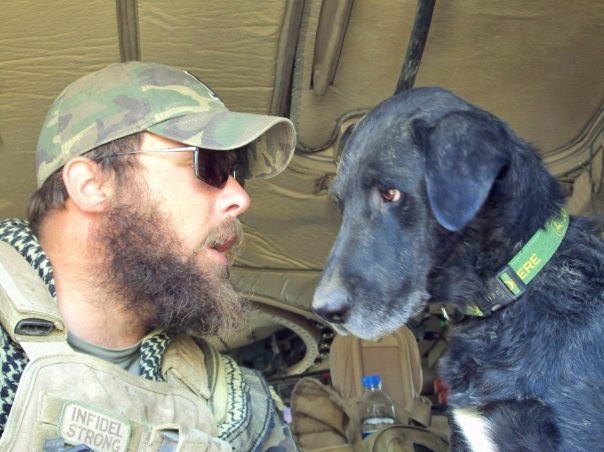 Six year old
Toby L024
was a shiny, sleek black Labrador Retriever with a silly grin and slightly graying muzzle when he was partnered with
Army Specialist Thomas J. Jackson
during their 11-month deployment to the worst areas of Afghanistan. They developed the same characteristics: weary, dust-covered, yet always willing to work. Whether walking point on a combat patrol, clearing roadways of explosive devices or hunting for Taliban leaders, this dog team was relentless.
As a Specialized Search Dog (SSD), Toby's job was to use his nose off lead and work ahead of his handler. Toby went on hundreds of patrols and found many IEDs, several caches of Rocket Propelled Grenades with propellant tubes, and even an old 250 lb. Russian GBU (Guided Bomb Unit) that was dropped during the Russian occupation, but failed to detonate on impact. That one bomb in the hands of the Taliban would have had the potential to reduce homes and buildings into rubble and kill dozens of people.
During one intense firefight with the enemy, a Marine was gravely wounded and bleeding profusely. The only way to get him medical care was through a path cleared by Toby. The Marine received the needed care and survived. On another mission clearing a house, Toby went first, immediately sat at the door and would not allow anyone to enter. His educated nose had found several mortar rounds booby-trapped to explode when someone flipped on the light switch.
Due to the intense requirements of this duty, SSD Teams remain together until one of them retires. When a handler changes bases, the dog goes with him, unlike other narcotics, explosives or patrol dogs used in the military. Currently Toby and his handler are based at Fort Hood, Texas.
For his work, Toby received special playtime with a ball. For his, Specialist Thomas J. Jackson was awarded the Bronze Star Medal for exceptionally meritorious service. Toby was also nominated for this award, but because our military does not recognize the heroism of dogs, we are nominating Toby as ACE Hero dog with the following comments from his handler:
"If I had to say anything about Toby's work, I would say this: I walked in front of everyone on countless missions, was engaged by enemy fire, had to run through fire to safety and then return fire to allow others to make it to safety. I've crept through the night to enter and exit enemy houses while looking for Taliban and weapons caches. I've ridden helicopters into fields next to houses full of insurgents, moments before storming them, then waited patiently for them to return to pick me up after the mission was over. I've done all of those things, but Toby did them by my side, and in most cases while walking in front of me. He saved my life and the lives of the men I worked with. I am an American Soldier, and he is my Hero."
[easyrotator]erc_75_1449699099[/easyrotator]
https://www.mwdtsa.org/wp-content/uploads/jackson-and-toby.jpeg
452
604
MWDTSA
https://www.mwdtsa.org/wp-content/uploads/mwdtsa-website_headerlogo-01-2020-300x138.png
MWDTSA
2015-12-09 17:13:48
2018-09-23 15:59:45
Thomas Jackson and Toby