Sgt. William (Billy) Soutra and his Specialized Search Dog, Posha F738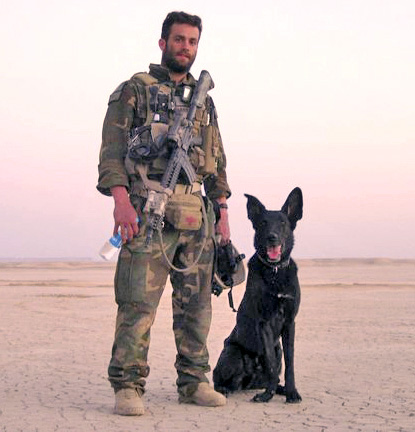 In July of 2010, the Helmund River valley near Nahr-e Saraj, Afghanistan, was an immensely volatile Taliban stronghold. One Special Forces Operator reported casualties in 18 of the 19 missions run by his unit. This was where Sgt. William (Billy) Soutra and his Specialized Search Dog, Posha F738, along with other members of their Special Forces Team, were inserted via helicopter to begin a mission to capture an insurgent bomb factory and clear out a Taliban command post.
Once Posha was on the ground, his nose immediately honed in on certain odors, finding two pressure plate bombs; Posha then began sniffing for booby traps around a weapons cache. As Posha and Soutra began this search, the Taliban exploded into a ferocious ambush; the fighting lasted two days. During those 48 hours, Soutra and Posha exhibited exquisite Marine heroism and resourcefulness, resulting in the awarding of a Navy Cross for dog handler Soutra and three Silver Stars for other members of his unit. The Navy Cross, presented December 2012, is the second highest award for combat valor and the highest ever awarded a dog handler who was secured to his dog during the action for which he received the commendation.
The official Department of Defense news release uses phrases such as "moving exposed down the line," "rushed into the kill zone," "pinned down," "flurries of insurgent machine gun and mortar fire" and noted that in the end, "they had destroyed the bomb factory, and had killed approximately 50 enemy fighters."
Soutra's version talks more about his partner, Posha. The Marine states clearly that half of the Navy Cross belongs to his best friend, a solid black male German shepherd dog with wonky ears, an affable personality and a brilliance and steadfastness that are hallmarks of this splendid breed. "Posha made me the Marine I am today."
Billy could not give enough accolades to his dog. "During all of the gunfire, as we moved into the firefight, he didn't hesitate, he didn't cower, he did everything exactly when and how I did it for two straight days. If he had faltered or balked at any point, it could have been different." He added, "He always reacted the same way. He saved my life."
On a previous deployment to Iraq in 2009, Soutra and Posha's teamwork was so precise and seamless that, in a rare event, the Marines meritoriously promoted Soutra to Sergeant and by extension, Posha to SSgt.
While Posha made it through the second combat deployment, he later succumbed to cancer and was euthanized in 2011. His loss was particularly difficult for his handler. "It's been a year now, but it still hurts when I think about how he got cancer and had to be put down."
Posha's ashes rest in an urn in a place of honor at Soutra's bedside. If Soutra has his way, his German shepherd hero who is now buried in his heart will one day be buried with him. "That way, we will always be together."
Dog handler Soutra wrote the following memorial to his K9 partner, after Posha's death.
"I wish I could tell you that it's going to be okay, but the truth is you've always been the one to pave the way.
You were always two steps ahead making sure that the paths we traveled were safe.
And although you've done enough already, I ask that you still watch over me, making sure the roads I travel without you are safe."
MWDTSA is honored to have supported this team.
Sergeant William "Billy" Soutra was awarded the Navy Cross at Camp Pendleton, CA on December 3, 2012. Click play, below, to listen to the audio portion of his DOD interview. The full (public domain) video interview can be viewed at http://www.dvidshub.net/video/192339/interviews-with-secretary-navy-and-silver-star-recipient#.Uc3abZxZ7Kc .
[easyrotator]erc_48_1449700026[/easyrotator]
https://www.mwdtsa.org/wp-content/uploads/william-soutra-and-posha.jpeg
432
415
MWDTSA
https://www.mwdtsa.org/wp-content/uploads/mwdtsa-website_headerlogo-01-2020-300x138.png
MWDTSA
2015-12-09 17:26:42
2018-09-23 17:02:02
Sgt. William (Billy) Soutra and his Specialized Search Dog, Posha F738