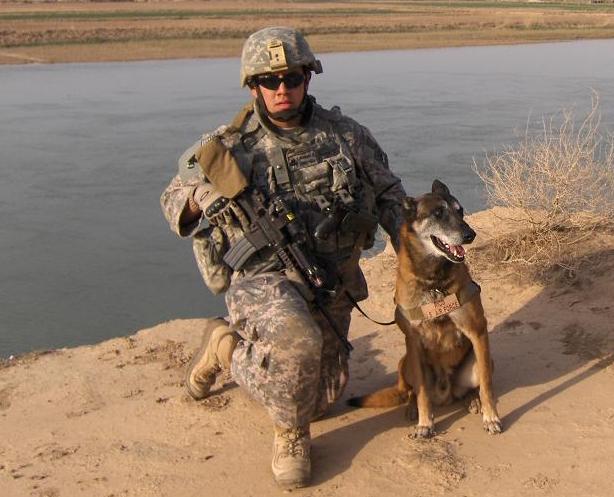 The last read on the thermometer was a blistering 122 degrees with a major sandstorm en route. Good thing Rico couldn't read the thermometer or the weather forecast, as he might have protested this mission. It included road clearing, a non-descript euphemism for leading a foot patrol to ensure the path is not booby-trapped with explosives; using his nose to track down that tell-tale scent of explosive, wiring, and bomb parts that mean seriously bad news for anyone who encounters them. One miss and everyone has a grim day.
Rico is a nine year old Belgian Malinois trained in Bomb Detection and Patrol. He is based at Moody AFB, Georgia, but currently working with his partner, SSgt Phillip Mendoza III, near Baghdad as part of the 332nd ESFG (Expeditionary Security Forces Squadron). General duties include vehicle and luggage searches and perimeter patrols inside the wire, inside the compound, in relative safety. But oddly, this team prefers the adrenalin rush of work outside the wire, sometimes even in vineyards, orchards and fields which are much more like home than the moon-like landscape found in the Iraqi desert or the cluttered drab brown confines of base.
Rico and Mendoza, together for less than a year, gelled as a team in every sense of the word and have similar philosophies in life. This is Rico's fourth deployment to Iraq and Mendoza's fifth. They both relish long hours of grueling work, but they play even harder. Rico works dangerous missions in unbearable heat for a pat on the head and a round of fetch with his multi-colored ball. While the grey in his muzzle affirms his age, he acts like a puppy with all of his "off work" foolishness. Rico seems to take a lesson from Ashley Montagu's wisdom: "I want to die young at a ripe old age." Each day he rises before dawn and is eager to go out and do his thing with his best buddy.
A recent emotionally rewarding find for this team was the uncovering of a roadway IED. Walking point at a dangerous roadway location, the team was conducting a search when Rico alerted strongly, convincing Mendoza that something wicked was in the route. They marked the area, and then ran back towards their patrol, Rico actually ahead of Mendoza chasing that crazy multi-colored ball into relative safety. They called for explosive experts to clear the spot. What they found below the rocky road was in fact a very nasty weapon: a 152mm shell with additional explosives buried below the ground in an attempt to kill and injure Coalition Forces who frequented that roadway. It could have done immense damage and changed many, many lives for the worse, but it didn't; one more success for this amazing team.
After that find, Mendoza visited the chow hall and brought back two juicy rib-eye steaks for Rico knowing he deserved them. Mendoza plans to make Rico's retirement cushy by adopting him when this ebullient dog's military service is complete.
https://www.mwdtsa.org/wp-content/uploads/ssgt-phillip-mendoza-3-and-rico.jpeg
497
614
MWDTSA
https://www.mwdtsa.org/wp-content/uploads/mwdtsa-website_headerlogo-01-2020-300x138.png
MWDTSA
2015-12-09 17:03:18
2018-09-23 16:00:50
Ssgt Phillip Mendoza III and Rico