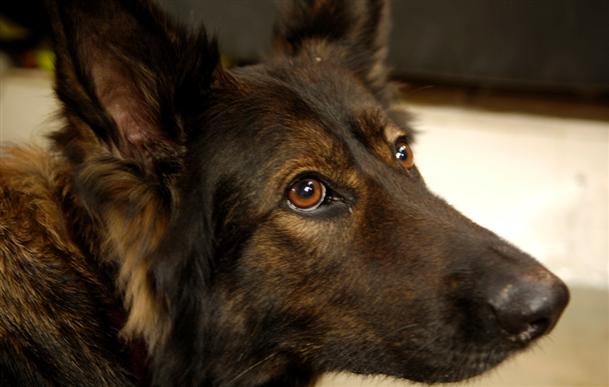 Tess, a jubilant German Shepherd Dog, and her owner/handler, Al Dodds, had been working with a Search and Rescue group in the southeastern U.S. for a few years, when Tess' special skill in Human Remains Detection offered them a bigger challenge, a chance to contract with the U.S. Army and go to Iraq, primarily in search of missing American Soldiers. The U.S. Military does not have a program to produce Human Remains Detection Dogs.
Al, a 60 year old former Military Dog Handler served his country in Vietnam while walking Sentry with his Navy K-9. He's excited to be working K-9 again. "Like many Vietnam veterans, I carried a feeling of unfinished business," he said, "I approached this as an opportunity to answer that, to have another chance. A lot of guys I served with in Vietnam would have jumped at it, too. And, I feel honored to be supporting the military and blessed to be healthy enough to do so at my age."
For over a year and a half, Tess has been working all of the hot spots in Iraq: Mosul, Ba'qubah, Fallujah, Mahmoudiya, Baghdad and every sandy spot in between. It's not just "Search and Rescue", it's "Search and Rescue on steroids". Anytime Tess is called out to search an area identified by intel as a possible site for either a missing American or a mass grave, she is required to have an entourage with her. Depending on how dangerous the mission may be, there may be a caravan of vehicles with helicopters providing security overhead. While all searches are a collaboration of teamwork, Tess' talented nose is a major key to the find.
Tess has gone to desolate locations where no trace of human activity can be found and has tracked down that one molecule of special scent that she is seeking, finding two mass graves and five individual graves so far. Her handler gives her the search command, and Tess begins her hunt for any scent of Human Remains. Tess' reward for hours of grueling hot, sandy work? Playtime with a special purple Kong toy.
Among the most emotionally rewarding finds for her handler is the recent return of the remains of an Ohio Soldier who was captured by insurgents in April 2004, after his convoy came under attack near Baghdad International Airport.
While no one wants to find bad news, bringing home the remains of America's Military Men and Women is of critical importance to the moral of the other Soldiers. And, it allows the family to begin grieving and closure.
There are currently still three Americans missing from this War and a fourth man is still missing from the First Gulf War so the search goes on. And, for the moment, Tess is on the front lines, her nose rising and lowering with the hot, dry air currents that will bring her that one special scent molecule, that one step closer to success–one step closer to bringing home one more American hero.
Written by Dixie Whitman, MWDTSA
Submitted via Ozark Kennel Club, Missouri
https://www.mwdtsa.org/wp-content/uploads/img17927868.jpg
387
609
MWDTSA
https://www.mwdtsa.org/wp-content/uploads/mwdtsa-website_headerlogo-01-2020-300x138.png
MWDTSA
2015-12-09 16:56:01
2018-09-23 16:07:45
Al Dodds and Tess