Richard Trapp and Chris K081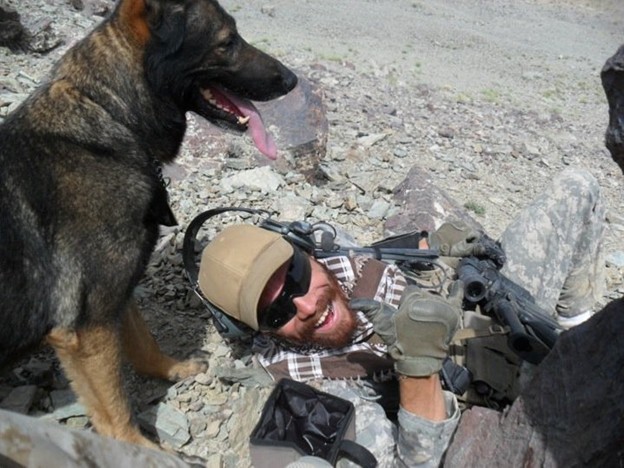 By Dixie Whitman
Chris was a particularly talented gal, she had to be because she was working alongside members of an elite Navy SEAL team whose every movement was precise and inevitable. She was a gorgeous German shepherd dog of deep sable color, perfect ear set with an exquisite structure that matched her beautiful mind. All of those talents and assets were honed by her handler, Richard Trapp, into a Patrol and Explosives Dog extraordinaire, Chris K081.
It was Trapp's second Deployment, but his first as a dog handler. In addition to Chris' skills in the field, the teamwork built with Trapp was flawless in execution and resulted in their being pulled to work highly sensitive and critical missions with members of the Special Forces Group.
One such day happened to be on July 4th. Sure, it was Independence Day back home with parades, family reunions and BBQs, but here in the hot, wretched Hellhole of Afghanistan, the day would be spent on a mission to assist a nearby village deal with their Taliban infestation issues.
The mission that day remains mostly classified so we cannot know the intensity of battle or final results, but ultimately, after a firefight lasting two hours, the team prepared to return back to their tiny Forward Operating Base (FOB) to rest, Mission Complete.
Driving the dangerous roadways is always an issue in Afghanistan. Today was no different, except due to the extreme terrain, these guys were riding All Terrain Vehicles (ATVs). The ATV that Chris and Richard rode hit a 60 pound IED that day. As Trapp remembers, "It was a scary event. I didn't know if we were dead or alive." Fortunately, it was their lucky day as only half of the explosive actually detonated, but the heat from the half that did explode burned Trapp's uniform and melted his boots
"It was nerve-racking, I went back to the FOB, got on the phone, called my wife and I told her, "I just wanted to say I love you."
Chris continues to perform flawlessly. She will do anything for a KONG toy. That deployment with Trapp she had 7 confirmed finds, including two bomb making factories, a weapons cache filled with AK47s and rounds of ammunition along with multiple IEDs. Her work no doubt saved the lives of coalition soldiers and local civilians. As she continues to work, she moves towards her retirement, which Trapp plans to be on a couch in his living room.
We thank this hardworking gal with a great nose for all of her expertise and success over the years and wish her Godspeed on her journey home from her current deployment and into the welcoming arms of her former handler and permanent retirement.
[easyrotator]erc_93_1449700905[/easyrotator]
https://www.mwdtsa.org/wp-content/uploads/richard-trapp-and-chris.jpeg
468
624
MWDTSA
https://www.mwdtsa.org/wp-content/uploads/mwdtsa-website_headerlogo-01-2020-300x138.png
MWDTSA
2015-12-09 17:41:33
2018-09-23 15:57:11
Richard Trapp and Chris K081