How to Keep Your Dog Active This Winter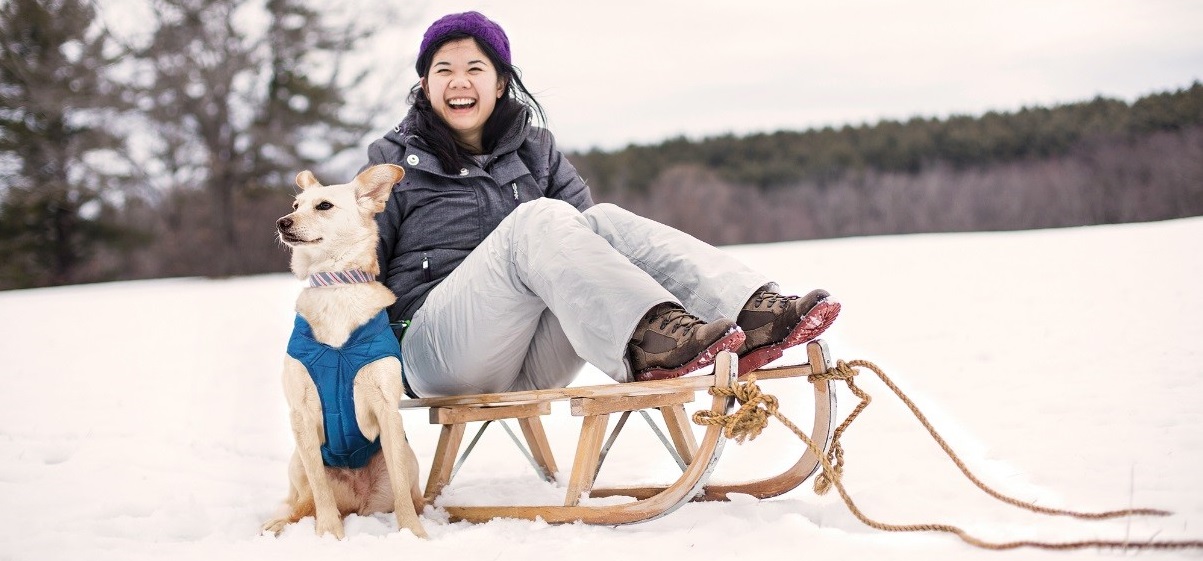 By Megan Schneider from Kurgo Products
Snowflakes are flurrying outside a frosted window while you're curled up in front of the fireplace, hot cocoa in hand. Your pup snoozes beside you as you pet him. The last thing you want to do is get up and go outside, right? This winter, that doesn't have to be the case! Your dog still needs exercise for his mental health and yours. Here are some fun ideas to stay active both indoors and outdoors.
Plan a puppy play date. This one is the best of both worlds. First, you get to hang out with your dog. Second, you get to hang out with your friend and his or her dog. And, bonus, you can do this one inside or out. If you want to play outside, great! You deserve a lot of credit, because it's cold out there. Just make sure you bundle your dog up in a dog coat to keep him warm! You can go to a dog park, take a walk, or even just play fetch with the pups in your back yard. However, if you're like me and can't always bring yourself to brave the frozen tundra, you can also have a play date inside. Set up a mini obstacle course for your dogs – you can use things like cones, spare tires, and poles to set up a basic course – and have a little friendly competition with your pal!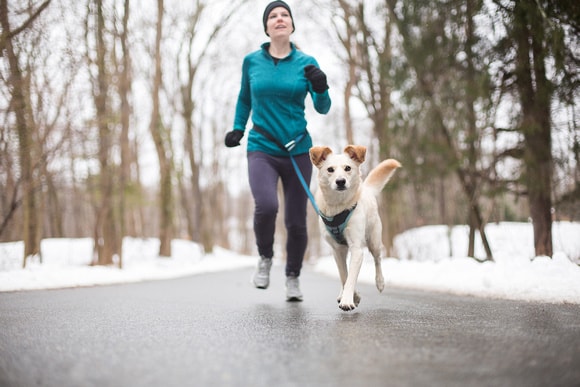 Find a dog park. The great thing about dog parks is that there are both indoor and outdoor parks. Whatever suits you and your pup's lifestyle better is fine. Again, if you will be keeping him outdoors, make sure he is prepared for the cold in a warm dog jacket. You might also want to consider dog shoes or a salve, like Musher's Secret. At the dog park, you can do all sorts of things – play fetch with a ball or Frisbee, let your dog make new friends (just be sure to keep an eye on him), run with him, or so much more. However, taking your dog to an indoor park could be more beneficial to both you and your pup than an outdoor park. First, there are no other creatures waiting to sabotage your play date. While ticks and mosquitoes are more of a summer worry, there are always a few stragglers – I've been pulling ticks off my dog all November long! An indoor park allows you to enjoy playtime with your pup with peace of mind. Additionally, when you play with your dog outdoors, chances are he loves to dig in the dirt or snow – this may be entertaining to watch, but it makes a lot of extra work for you later when you have to bathe him for the third time in two days. Finally, indoor parks keep both you and your dog out of the cold so you don't have to worry about all the extra layers for both of you.
Create a scavenger hunt. This may require a little extra effort on your part, as most dogs have an amazing sense of smell. However, it will be worth the effort to see how happy this makes your dog! Snow is great for a scavenger hunt because even if you don't have a great hiding place, the snow covers everything. Pick a few items such as treats, toys, and tennis balls and hide them across your yard. You'll both get a decent amount of exercise trekking through the snow, and you'll have a blast watching what he goes after first! This one can also be done indoors. Since you have less space inside, change it up a bit – show your dog a treat or a toy and tell him to sit and stay while you hide it. You can do this one at a time or with several items at once.
Bring him to your favorite retailer (or his). There are all sorts of clichés about kids in candy stores and girls in shoe stores – but have you ever seen a dog in a pet store? He will be in literal (read: figurative) heaven traipsing down aisles filled with toys and treats. You can let him pick out a new dog toy or new treat flavor, or maybe even a new dog bed. Additionally, you can also take your pup along to your favorite store. Many major stores, such as Lowe's, Home Depot, Macy's, Barnes & Noble, and LUSH Cosmetics all allow dogs in their stores. Shopping and hanging out with your dog? It doesn't get any better than that! Just always be sure to call the store first to make sure dogs fit into their specific store policies.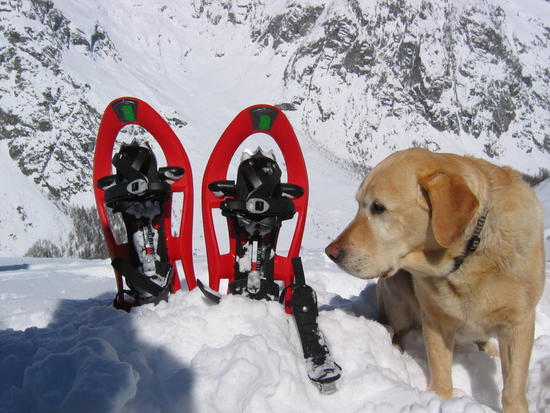 Bundle up and get outside! This one is the most obvious of all, which is why I saved it for last. Yes, winter is cold and snowy and we don't all love it. But chances are, your dog does. So bundle yourself and your dog up, get outside, and start a game of fetch or go for a walk. After all, there's nothing cuter than watching your dog frolic through freshly fallen snow. Or, if you're feeling really adventurous, try something new – there are all sorts of fun winter sports you can do with your dog, such as snowshoeing, cross-country skiing, or skijoring. All three require a bit more effort than your typical snow day with your dog, especially skijoring – it is a new sport that combines dog sledding with cross-country skiing. But all three promise to be tons of fun, as well!
Whatever you decide to do with your dog this winter, just have fun. And, most importantly, make sure you always make time to exercise your pup – it will keep him both happy and healthy!
Megan Schneider graduated summa cum laude from Temple University in 2016 with a degree in advertising research & strategy. She has written content for blogs as well as for advertising and promotional materials, and is currently writing for Kurgo, a company committed to helping people and their dogs get out and enjoy the world together by creating high quality dog travel and outdoor products.
https://www.mwdtsa.org/wp-content/uploads/dog-sledding.jpg
561
1203
Nikki Rohrig
https://www.mwdtsa.org/wp-content/uploads/mwdtsa-website_headerlogo-01-2020-300x138.png
Nikki Rohrig
2016-12-31 16:08:42
2020-04-04 16:05:34
How to Keep Your Dog Active This Winter