Memorial Day 2019: Remembering the ultimate sacrifice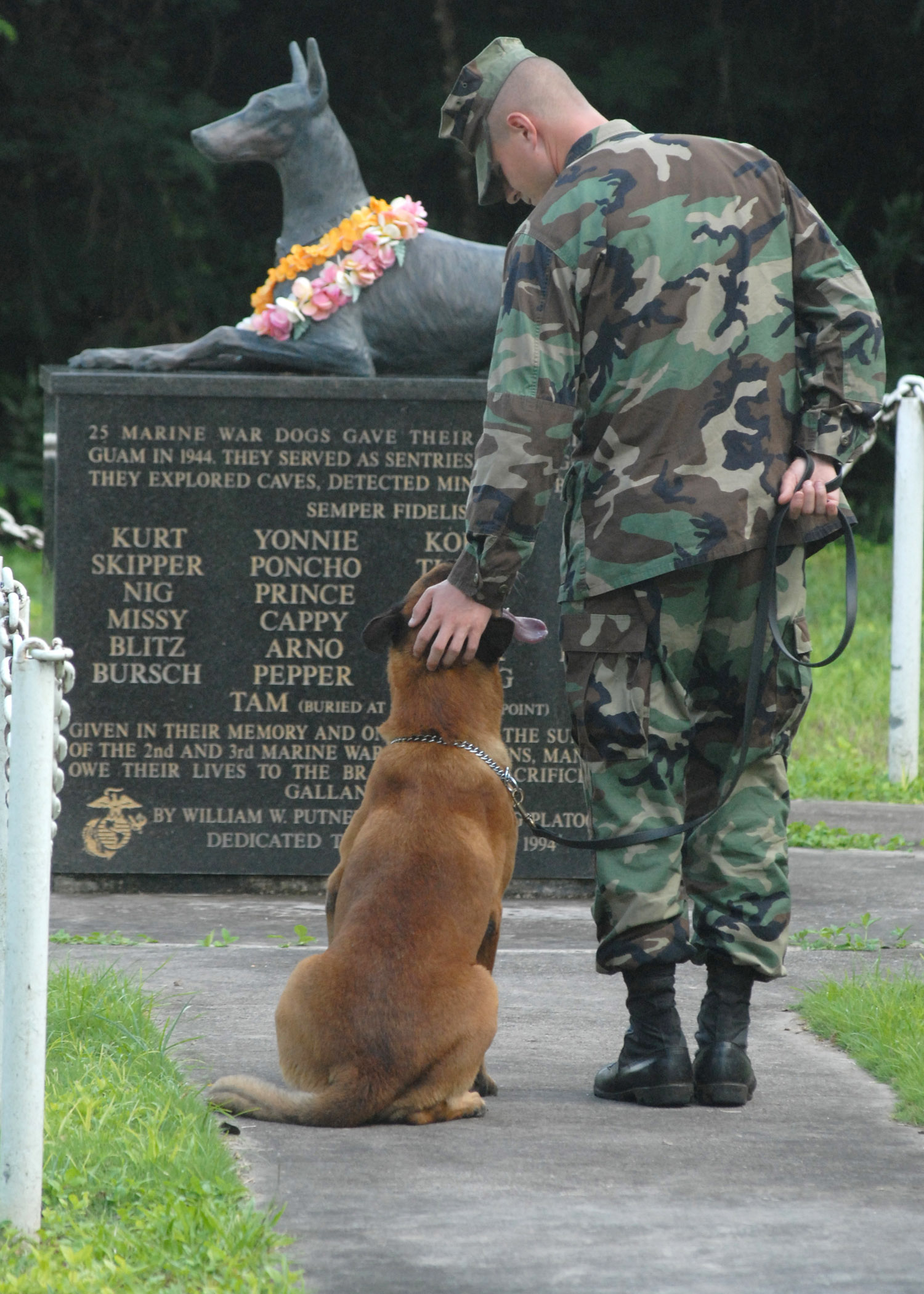 "25 Marine War Dogs gave their lives liberating Guam in 1944. They served as sentries, messengers, and scouts. They explored caves, and detected mines and booby traps." U.S. Navy photo by Petty Officer 2nd Class John F. Looney [Public domain], via Wikimedia Commons
Emails, Facebook posts, and retail store signs exclaim, "Happy Memorial Day!" At each one, I bristle and my mind travels back to a 1983 conversation with Moshe, a 15-year-old Israeli exchange student.
Moshe's stay in the U.S. included the Memorial Day weekend, and he passionately spoke out against the celebratory atmosphere. "This is wrong," he said. "Memorial Day isn't about partying and shopping. It's about remembering the sacrifice of those who gave their lives to protect our freedoms. It is supposed to be a solemn occasion. You don't say, 'Happy Memorial Day.' You say, 'Thank you.'"
Moshe's words continue to resonate with me today. Ads announcing big Memorial Day blowout sales compete with media coverage of commemorative activities and veterans' stories. Low-price promises and beer fests distract us from the meaning and intent of the day.
We, the volunteers of MWDTSA, encourage you to take time this weekend to reflect on the sacrifices of our nation's two- and four-legged heroes. Visit a cemetery, study the grave markers, and place flags or flowers to say thank you. Watch a documentary, begin a biography, or read news articles about a fallen service member.
MWDTSA thanks handlers and MWDs, past and present, for your dedication to preserving our nation's freedoms and protecting the United States of America. We feel enormous gratitude for your service.
https://www.mwdtsa.org/wp-content/uploads/mwdtsa-kenneltalk-blog-memorialday-photo-20180527.jpg
2100
1500
Leigh Steere
https://www.mwdtsa.org/wp-content/uploads/mwdtsa-website_headerlogo-01-2020-300x138.png
Leigh Steere
2019-05-27 13:45:50
2020-04-04 17:58:25
Memorial Day 2019: Remembering the ultimate sacrifice