Align Orthodontics patients raise $926.50 for MWDTSA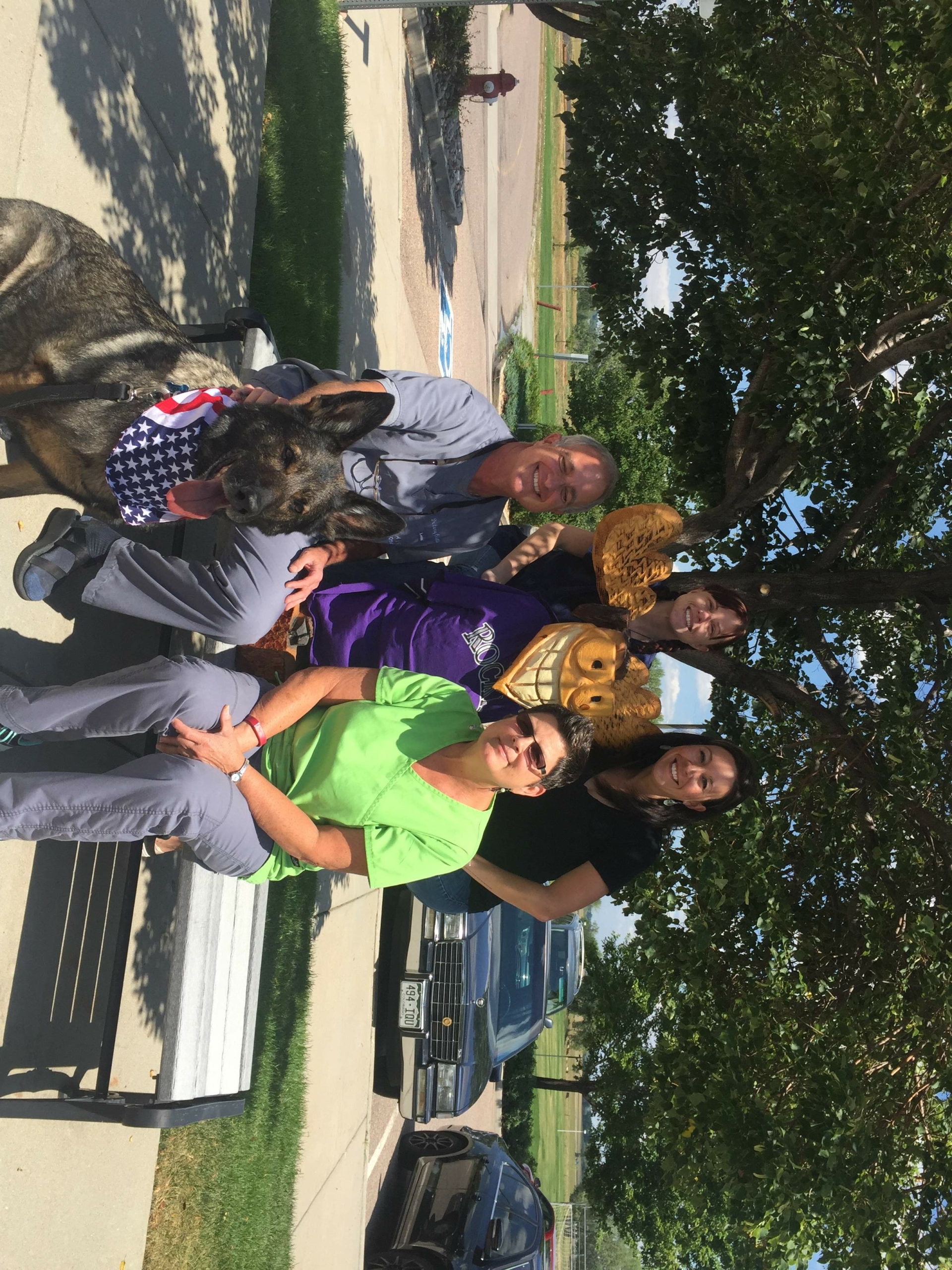 For over six months, the kids at Align Orthodontics donated their prized wooden nickels to MWDTSA. The tally is in, and these Colorado kids rock! Their $926.50 contribution helped fund MWDTSA's Q1-2018 care packages. With this money, we purchased toothpaste for the dogs and Cocomel candies for the handlers.
Wearing rubber bands, head gear or retainer as prescribed?
Align's wooden nickel program promotes good oral hygiene and compliance with orthodontic instructions. At each visit, patients earn nickels based on how well they've cared for their teeth and braces. With 20 nickels, patients can "shop" at an Align "store" that offers Lego sets, gift cards, and other coveted merchandise.
Many patients, however, chose to deposit their nickels in an MWDTSA donation jar at the front desk. For each of the 1,853 wooden nickels contributed by patients, Align Orthodontics provided 50 cents toward our Q1 2018 care packages! To put the kids' sacrifice in perspective, their nickels could have purchased 92 Lego sets at the Align store.
Additionally, a patient's family stepped forward to volunteer countless hours to help MWDTSA with pre-packing activities. The Meltzer's neatly folded 200 t-shirts and placed items that might leak into Ziploc bags. They and Align associate Megan Lentfer joined the packing team to assemble nearly 200 boxes on Sunday, February 11.
Align Orthodontics military ties
Align Orthodontics has a deep reverence for the military and the sacrifices made by our servicemen and women. Dr. Laurence Colletti, owner of the practice, graduated from the U.S. Air Force Academy in 1975. As a USAFA cadet, he was interested in dentistry AND being a pilot. However, the Air Force was not sending any graduates to dental school. So, he had to decide between staying in the Air Force and becoming a pilot, or pursuing dental school on his own. Taking this decision very seriously, he decided to play himself in a game of racquetball. Becoming a pilot won. During active duty, he flew as a T-38/KC 135 Pilot and Wing Flight Safety Officer and really enjoyed his time in the sky. "Where else in the world," he asks, "can a 21-year-old be trusted with a multi-million dollar piece of equipment?"
After 6 years of flying, however, the dental desire returned. He decided to enter the Army Reserves as a Medical and Dental Officer so he could start dental school as a civilian. In this capacity, he was activated for Desert Storm. Altogether, he served in the military for 20.5 years before retiring.
Dr. Colletti isn't the only person at Align with military connections. Orthodontic Assistant Sylvia Cage's daughter served four years and son-in-law served 20 years in the Air Force. Megan Lentfer's sister and brother-in-law are active duty Navy. Her cousin is an active duty Marine.
Many thanks to Align Orthodontics for your enthusiastic support. It's donors like you and your patients who make our quarterly care packages possible, and we really appreciate you!
Is your group interested in raising money for MWDTSA care packages? To learn more about MWDTSA's needs, contact Nikki Rohrig at president@MWDTSA.org or visit https://www.mwdtsa.org/.
Photo credit: Shelli Patty. Align Orthodontics office staff with RMWD Falco. From left to right, bottom row: Dr. Laurence Colletti, moose mascot Justin Timbertooth, Sylvia Cage; top row: Amanda Evans, Megan Lentfer. Not pictured: Laurie Hoff.
https://www.mwdtsa.org/wp-content/uploads/mwdtsa-kenneltalk-blog-alignphoto-20180216-scaled.jpg
2560
1920
Leigh Steere
https://www.mwdtsa.org/wp-content/uploads/mwdtsa-website_headerlogo-01-2020-300x138.png
Leigh Steere
2018-02-16 10:57:07
2020-04-04 16:16:35
Align Orthodontics patients raise $926.50 for MWDTSA