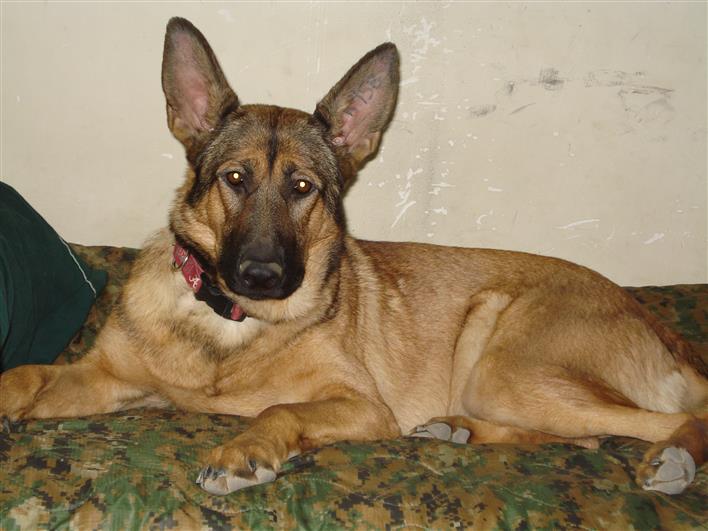 It's 105 degrees outside, and it's just the cusp of summer. Lucca K458, a four year old female Belgian Malinois, works silently, walking point on a combat patrol; her nose lifted high and then brought low, reading the still air as easily as her handler would read a newspaper. Suddenly, she stops. Finding the smell she seeks, this gifted Explosives Dog lies down and stares at the scent, communicating the find to her Marine handler, SSgt Chris Willingham. Lucca has just alerted on an Improvised Explosive Device (IED), planted roadside with the intent to kill the Soldiers behind her. But, that won't happen today. One more success for this expertly trained Marine Dog, one less success for the enemy.
SSgt Willingham knows the danger that "choke points" bring. When a convoy approaches a point where it must slow down or stop, a "choke point", such as a canal crossing, intersection or bend in the road, gives more time to watching insurgents to detonate their weapons. Lucca's mission is to alert on the explosives beforehand, have them rendered harmless and move out.
During one house to house search, Lucca and Willingham were looking through a TV repair shop, filled with all the typical electrical parts and wiring that one would anticipate finding there. All seemed normal, except the man's composure. In a back room, in a box tucked away under a table, Lucca suddenly alerted, telling Willingham that explosives were present. The owner's hands tested positive for residual explosive; one more bomb maker out of business.
Lucca's list of accomplishments is lengthy and includes finding 2 IEDs, 1 Car Bomb, caches of homemade explosives, numerous concealed AK-47s with Mags, Dsh-Ks (vehicle mounted 50 caliber Soviet guns), hidden along the Tigris River and lethal Dsh-K rounds buried in an above ground tomb in a cemetery; her finds leading to arrests of many insurgents.
This team has been part of numerous combat patrols, including Air Assaults. In Willingham's words, "We conducted an Air Assault one night, and when we hit the house we did not find the High Value Target we were looking for. As others were interviewing the witnesses, I took a 4 man team to conduct open area searches around the house. Lucca started to show a change, but it was not her normal change of behavior. I told the team there was something alive out there in the darkness. About 20 yards later, she began to growl, so I alerted the team and they conducted a sweep of the area…………..about 30 yards away in a canal was the insurgent we were looking for. She is not trained for patrol work, but that's just the dog's natural ability."
Lucca is truly a heroine to those Soldiers who safely follow in her footsteps.
https://www.mwdtsa.org/wp-content/uploads/luca-oct-2007.jpg
531
708
MWDTSA
https://www.mwdtsa.org/wp-content/uploads/mwdtsa-website_headerlogo-01-2020-300x138.png
MWDTSA
2015-12-09 16:43:44
2018-09-23 16:07:57
Chris & Lucca