Rex: Nomination for "Hero Dog in the Service"
Dear GSDCA Board:
It is my great honor and joy to be able to nominate RexD012 for the honor of Hero Dog in the Service category. Rex along with his human partner, U.S. Navy Petty Officer MA1 Christopher Calloway, impressed me from the first moment I saw them. They are both dedicated professionals and are a team in the truest and most fundamental sense of the word.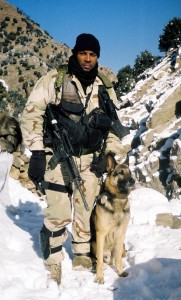 MA1 Calloway and Rex attended the 2005 War Dog Memorial Re-dedication in June of 2005 at Ft. Benning, Georgia, where I first met them. Calloway and Rex wanted to honor all dog teams past and present and the salute Calloway made at the War Dog Memorial made the newspapers around the world as part of the AP news network and brought attention to the legacy of the Military Working Dog with his quote, "I have the best job in the world."
Later that same year, in October 2005, I spent a day watching the work done by Rex and other Navy K9s at King's Bay Naval Submarine Base (NSB) in south coastal Georgia, where they are responsible for security patrols and narcotic detection on the nuclear submarine base. Rex is now a seven-year-old GSD imported from Germany. As a teenager, Rex completed basics at Lackland AFB in Narcotics Detection and Patrol and was sent to NSB Kingsbay, Georgia in 1999 where he started work and continues his training daily. Rex is considered by the Kennel Master, MA1 Strobeck, as one of the most superlative dogs he's seen in his nearly 20 years of service. Rex has been known to take test shots at the Kennel Master during feeding, but it hasn't diminished Strobeck's praise for this dog. "He will protect Calloway or whoever is his handler to the end. That to me is personal. He is one of the most devoted MWD's that I have had contact with."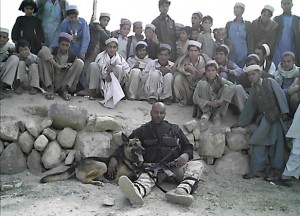 Rex's days at King's Bay are filled with sweeps of cars entering the base, patrolling the base as an MP and other normal duties. Although, normal being a relative term, if you consider a GSD being lowered down a hatch into a docked nuclear submarine for random checks as a "routine" duty. Having recently been on one of the nuclear subs, I can attest to how far straight down that hatch really is and how incredibly small and confining the spaces in a submarine are. Calloway reports that Rex negotiates these circuitous pathways with the unruffled ease of a seasoned submariner.
Rex and Calloway were deployed to Afghanistan in Operation Enduring Freedom in December 2005. Arriving east of Jalalabad in the rugged mountains near the Afghani-Pakistani border (where the average altitude is 4500 meters) during the fury of an Afghani winter had its own challenges. For this pair more accustomed to sultry southern climes, the initial mission included the freezing of MA1 Calloway's pistol in the firing position. Some of the information about their work remains classified, however, we do know that this team was attached to the DEA and British Special Forces (SAS/SBS Forces) to conduct drug interdiction throughout eastern Afghanistan and worked in the Aachien District, the Nangarhar Province, Hajj Juni Kahn Village and innumerable caves and crevices in eastern Afghanistan, searching for and destroying heroin, opium and weapons caches.
To access the caves and steep mountainsides, they were sometimes required to jump out of helicopters onto very rugged terrain, as there was nowhere to land the helo. Laughingly, Calloway says that this land is so desolate and harsh, that it should only be used by mountain goats. Coming from the humid heat of the Georgia coast, Rex took the snowy mountain crags like a duck to water, impressing all of his DEA and British Special Ops team. I'll include some first hand accounts from MA1 Calloway's emails to give you a flavor of what was going on for this dynamic duo in their efforts to stem the tide of drugs headed westward to America.
"How's it going? I just wanted to check in with you. Today was my first day out. I really can't get into details but I'm sooo exhausted. I was with the British Special Forces and "DEA". We went to places — only goats and donkeys can maneuver out there. The weather was soooooo bad that my 9MM froze in the fire position and I couldn't even chamber a round if I needed to. My feet are slightly frost bitten. I had so much gear and at times I was struggling to make it up those hills. The big story here is my dog Rex. He would notice every time I wasn't with him and he would come back to see I was okay. I took a bad fall on the ice. I thought I broke my arm and wrist, but I'm OK. Rex was flawless for 9 hours straight in 20-degree temperature. He did not falter at all. He was sooooo strong out there, especially considering the elements. The helicopter pilots were very impressed. There were some places they could not land squarely so we all to jump at least 5-8 feet to the ground. Rex took the snow as if he was from Alaska. I was very impressed and very proud of him. Those mountains we were in were something out of a fairy tale, I couldn't believe it. I took some pictures with a disposable camera; hopefully the pics will come out okay. The British special forces and the Afghan special forces were so professional…Have a great day. Chris."
The exact amount of drugs that RexD012 and Calloway have taken out of the pipeline is currently classified information as they have not yet returned from Afghanistan. Their return date is slated for mid-June. However, what we do know is that during their six month tour, an excess of 10 tons of opium and heroin base have been found and destroyed due to Rex and MA1 Calloway's work.
"Heeeey, how's everything going? I'm sending some photos of our first mission. Take a good look at all of that opium. That was some serious drugs and the labs that they make it from. We blew the labs and set fire to the opium. Some of the campsites were vacant but you could tell the opium makers had recently been there. They heard the "helos" coming in and they took off. I took a pic of my weapon because I couldn't believe it froze like that, but at least it was in the firing position. The black tar heroin was something else, that's how they package everything. I have more pics, so stand by. Take care. Chris"
Not only were Rex and Calloway assisting the DEA and British Special Ops, they also helped check out the Embassies. They taught Afghani handlers how dog handling should be done, cementing relationships with our allies, initiated training for other groups, providing security sweeps for visiting dignitaries and serving as Goodwill Ambassadors with the Afghani kids. In a nutshell, they did it all.
"Hello, how's everything going? I just returned from my trip and I had a great time. I was camped out at this Afghani camp sharing some info on K-9's. The British bought the Afghanis two dogs at $10,000: Sniper and Nero. The dogs knew odor, but it was the handlers that were having the hard time and needed our help. I had a translator and he was great. He translated everything I said and we were able to really get some good techniques shared. I spent 3 days with them and I showed them some great training tips and I also had Rex show them how it should be done. : ) I will check on them again in 3 weeks….Thanks for the care packages. Chris"
and a few days later…
"Good morning, how's everything going? How was the weekend? As for Rex and me we are doing very well. Today I was spent some time with DYNCORP to help out with their K-9 teams they are trying to put together to run on the borders. One drug and one explosive. They have two Afghanistan handlers and two German shepherds to work with. The handlers came over today and I went over a few things and did "Show and Tell" with Rex. The K-9's come from Uzbekistan somewhere near the border of Russia and the handlers speak Russian and the commands are in Russian so I'm looking forward to this. I will send some pics when I get the chance. Here is a pic of Sgt Nunez with President Bush. He has another one with Laura Bush. We made sure the President and Mrs. Bush were safe when they came to visit us recently. Chris."
Rex and MA1 Calloway are consummate professionals, true American heroes, and battle tested. Even when things go other than expected, they step up to the plate, do their job and take on additional duties.
"Hello, how's your day going? As for me I'm sooo tired. Rex and I went on another mission today somewhere out there. I never know exactly where we are but the helicopter we were riding in "CRASHED" today after we got drop off at the target site. Everyone was okay, a lot of my gear is torn up from the crash but fortunately, Rex and I had just gotten off. We had a good day as far as locating drugs and providing security at the crash site. Here are a few pics from today's mission. I'm heading to bed now, as I've been up for 17 hours now."
As you can probably discern, the area that Rex and Calloway are serving in is well known for its system of caves and hiding places and is suspected of providing cover for some of the world's most feared and well-known terrorists. While this type of information is totally classified, I am certain, without a doubt, that with Chris and Rex on the prowl, eastern Afghanistan is not the easy haven that it might once have been for terrorist activity. If you put two and two together, I'm sure you can come up with the answer.
MA1 Calloway and MWD Rex have been working together for three years and have a seamless working relationship. Calloway will retire in a couple of years and hopes to take Rex into retirement with him. Because of their exemplary work locating and destroying so many drugs I would like to add GSDC of America's Hero Dog Award to a list of honors they have received. However, in addition to that you have a dog and handler who are working in an unbelievably rugged environment and remaining flawless, proving to be the truly professional dog team while dealing with a multitude of nationalities among our allies and providing security for the President during his visit to this hostile area. For everything they are, Rex and Chris are true, true heroes.
Thank you for your consideration.
Sincerely,
Dixie Whitman
GSDC of America member since 1991
Invalid rotator ID specified (path Invalid_Rotator_Path_Specified doesn't exist). Unable to display rotator.
https://www.mwdtsa.org/wp-content/uploads/chris-and-rex.jpeg
836
1835
MWDTSA
https://www.mwdtsa.org/wp-content/uploads/mwdtsa-website_headerlogo-01-2020-300x138.png
MWDTSA
2015-12-09 13:27:41
2020-04-04 16:21:26
Chris Calloway & Rex