Rex Specs co-founder speaks on dog eye care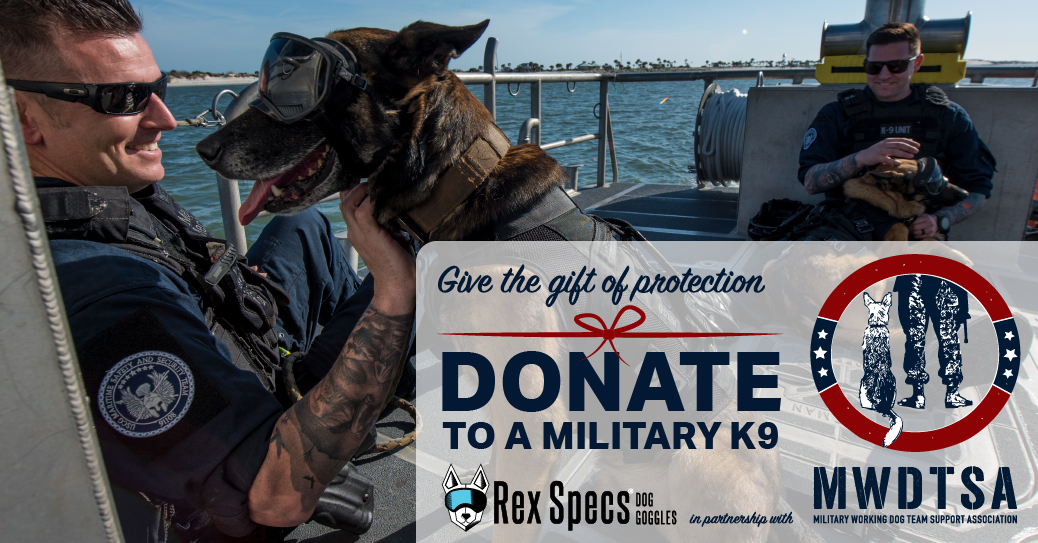 Rex Specs dog goggles are high-quality protective eyewear for the active and working dog. They typically retail for $80, but this holiday season, the company is hosting a donation drive for the Military Working Dog Team Support Association (MWDTSA). If you donate $40, Rex Specs will work with MWDTSA to deliver protective eyewear for a military working dog deployed in a global combat zone.
This year, we have set the goal to include Rex Specs in all 200 Q1-2019 care packages that MWDTSA will ship out in February. These goggles shield the eyes of MWDs from helicopter rotor wash, desert sand storms, winter blizzards, and other environmental hazards. With the holidays coming up, it's a great way to honor our nation's four-legged heroes.
MWDTSA had the opportunity to talk with Rex Specs co-founder, Jesse Emilo, to discuss the need for K9 eye protection.
Q: In what situations can dogs benefit from protective eyewear?
A: In any situation where humans wear eye protection, it's important to consider whether a dog also needs eye protection.
UV rays, dust, dirt, debris—and even grass, seeds, and sticks—pose potential hazards for dogs. Canines living at high altitude and in sunny environments experience intense and prolonged UV exposure that can harm their eyes. In some cases, time in the sun can aggravate existing medical conditions such as iris atrophy or pannus. Goggles provide UV protection so that a dog's time outdoors does not need to be limited or restricted.
Dogs that are deployed from helicopters (MWDs, Police K9s, Search and Rescue, etc.) or that live and work in areas with lots of particulates use goggles to help protect from foreign objects getting into the eye.
There are dogs that accompany their handlers in unique situations and environments, such as chemistry labs or welding shops, where eye protection is worn by all—so why not the dog? Many dogs wear goggles for protection while sticking their head out the car window or while riding in a motorcycle sidecar.
Whether your dog's eyes are healthy or they suffer from an eye disease, many people choose to protect their four-legged companion's eyes before an injury occurs.
Working dogs such as MWDs, hunting dogs, and other highly trained K9s have hundreds or thousands of hours of training. An eye injury could end their career. Rex Specs act as insurance to protect your partner from eye harm.
Q: What are the risks dogs (and their owners) face if a dog does not wear protective goggles?
A: Some dogs have eye conditions that are genetically inherited, and some face on-the-job or other environmental hazards. The risks associated with not wearing goggles depend on the circumstances.
One of our dogs, Yaz, lacks pigment around the eye, resulting in severe sunburn when outside all day. Her eye would get red and puffy for a few days after being in the sun for too long. Sometimes, she would even develop a scab on her eyelid. At the age of 8, she needed entropion surgery on the eye.
The surgery was costly, and we felt badly about bringing her on all-day outdoor adventures without protecting her eyes—before and especially after surgery. Now that we have Rex Specs, we can bring her along on the boat or out in the sun for a long day, with confidence that she's O.K.
Our other dog, Tuckerman, was diagnosed with pannus at the age of 2. It's an autoimmune condition that affects the cornea (the clear) part of the eye. If left untreated, it eventually can scar the eye so badly that it causes vision impairment or blindness. This condition can worsen with UV exposure.
One treatment for pannus is daily steroid drops. This prescription is not cheap when accumulated over a lifetime. Goggles are a less expensive alternative. Tuckerman still has pannus, but at the age of 9, he's doing well. With his Rex Specs, we feel good about bringing him on long runs and adventures, knowing he's protected from UV rays.
Q: Some dogs swipe their eye area with a paw in an effort to remove an irritant. What other signals/symptoms should dog owners watch for that might indicate an eye injury or irritation?
A: Wiping or pawing at the eye should definitely trigger owners to take a closer look at their dog's eyes. Other signs of possible irritation include discharge, redness, or swelling. If you suspect something is wrong with your dog's eye, document the issue, take photos, and check it frequently. If it's becoming worse or not improving, consult your veterinarian. Eyes are sensitive and delicate. It's better to be safe than sorry, so call your vet if you have any questions or concerns. Treating an injury early can help keep the pain down, expedite the healing time, and minimize the cost associated with the injury.
Q: Are there any basic first aid/home care tips that owners should know when caring for their dogs' eyes? In addition to goggles, are there any particular dog eye care supplies owners should always have on hand?
We recommend giving your dogs an overall checkup quite often, and particularly after they are exposed to harsh environments or show signs of possible injury. Check their entire body, not just their eyes. Bird-hunting dogs, for example, often run through tall grass and thorny weeds. Look closely at their paws, bodies, faces, and eyes to make sure there are no scratches, or embedded debris or grass seeds. One thing that's nice to have on hand is saline solution, which can be used to rinse or flush a dog's eye.
Q: What are common mistakes dog owners make when caring for their dogs' eyes, and what should owners do instead?
A: The most common mistake might be not giving your dog's eyes the attention they deserve. Most medical conditions get worse over time and are easy to miss if you're not keeping an EYE on your four-legged companion. We have a lot of customers who say, "If I had only known earlier," when they find out about a condition or injury.
Regularly check your dog's eyes, ears, paws, nails, and body. If you see something different or something that has changed, take note and keep track of it. The more information and awareness you have from the start, the better your vet might be able to treat an injury or symptom. Also, ask your vet to examine your dog's eyes during annual checkups or if you suspect something is wrong. Nobody knows your dog as well as you do—trust your instinct if you feel something is off.
MWDTSA is grateful for Rex Specs' ongoing support of our nation's military working dogs. We thank you, our readers, for supporting this year's Rex Specs drive. These goggles protect MWDs' eyes from harsh elements, so they can work more comfortably and safely. Let's set a record and send a spectacular number of Rex Specs to these intrepid four-legged service members. Here's how.
https://www.mwdtsa.org/wp-content/uploads/mwdtsa-RexSpecs-bannerimage-20181204.png
543
1038
MWDTSA
https://www.mwdtsa.org/wp-content/uploads/mwdtsa-website_headerlogo-01-2020-300x138.png
MWDTSA
2018-12-10 11:51:08
2020-01-29 00:29:34
Rex Specs co-founder speaks on dog eye care