Fort Huachuca: kennel visit recap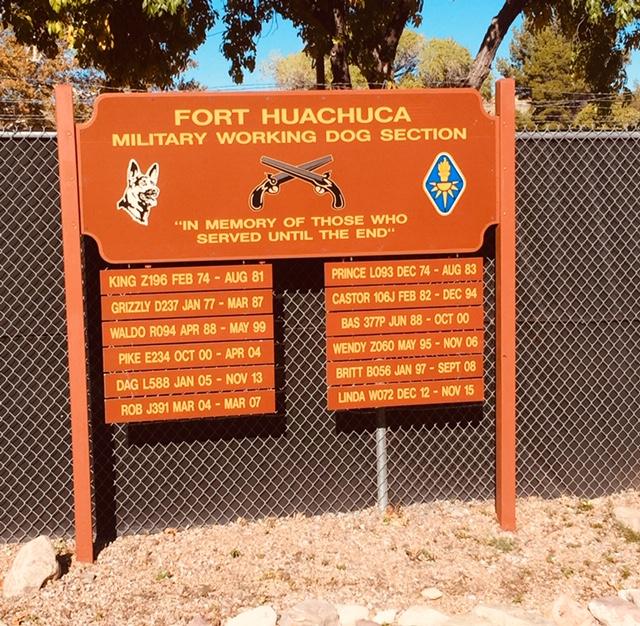 With this prominent sign, Fort Huachuca honors military working dogs that have crossed the rainbow bridge. (Photos by Linda Costa-Bryan)
Don't mess with a military working dog. A rabid raccoon learned this the hard way when it ventured into a kennel at Fort Huachuca. The dog quickly dispatched the invader and thankfully did not contract rabies. The incursion, however, led to the installation of sturdy red iron gates to deter wild critters from entering.
MWDTSA heard this and other stories during a recent visit to Fort Huachuca. Our nonprofit travels to stateside kennels to provide moral support and say thanks to military working dog teams. These handlers and dogs work tirelessly in a variety of roles, including explosives detection, drug detection, and patrol. They face challenges ranging from extreme weather to snakes (including one killed in the area that morning).
MWDTSA volunteers Linda Costa-Bryan, Scott Bryan and Bill Cummings arrived at the base with breakfast and gifts. Donors' generous financial contributions made all of this possible. Handlers enjoyed coffee, juice, fruit, assorted pasties, and donuts. Volunteers presented a new coffee maker and bags of Dunkin Donuts coffee. Handlers received MWDTSA t-shirts, blender bottles for protein drinks, MWDTSA patches, and Fifty/Fifty bottles.
For the dogs, MWDTSA delivered KONG Classics, KONG Squeezz sticks, dog bandanas, collapsible dog bowls, and Planet Dog Orbee footballs. Thanks to the steadfast support of Planet Dog, each MWD also received a Planet Dog Orbee baseball. These toys are perennial favorites among MWDs! KennelSol graciously provided a bottle of kennel disinfectant for this visit.
Part of Arizona history
While MWDTSA's main goal is celebrating the handlers and their four-legged comrades, our volunteers also learn a great deal about training, local challenges, deployments, and military history. A kennel visit typically includes skill demonstrations and a facilities tour, along with a chance for Q&A.
Our volunteers learned the Army originally established Camp Huachuca in 1877 to "offer protection to settlers and travel routes in southeastern Arizona."1 It was re-designated as a fort in 1882.
Swapping stories
MWDTSA volunteer Cummings of Marana, Arizona served as a USAF Vietnam-era Sentry Dog Handler. He and the Fort Huachuca handlers discussed how dogs' roles in the military have shifted over time as missions have changed. "Today's dogs do so much more," he noted.
Linda Costa-Bryan remarked that she had never seen artificial turf in a kennel training yard. This led to a discussion of the hot climate. Fort Huachuca handlers work with their dogs early in the morning, because the sunbaked terrain can scorch a dog's paws in the afternoon heat.
Anyone who has visited a military kennel can attest to the wisdom of ear protection. When visitors enter, the whole kennel often erupts in a cacophony of ferocious barking. Cinderblock walls and cement floors amplify the volume. So, MWDTSA volunteers were surprised at the (relative) quiet of Fort Huachuca's kennel. "That's because we just fed the dogs," explained SFC Mathew Peppersack.
During the visit, two handlers mentioned they had received MWDTSA care packages during previous deployments. Both had been surprised to get boxes and said it felt nice to be remembered while in a combat zone, away from their friends and family.
MWDTSA thanks you, our generous donors, for making these care packages and stateside kennel visits possible. We are grateful for your support!
**********
It takes a village to fill our quarterly care packages and fund our stateside kennel visits. To learn how you can help, visit https://www.mwdtsa.org/donate/. Thank you!
1. http://huachuca-www.army.mil/pages/history.html
https://www.mwdtsa.org/wp-content/uploads/mwdtsa-huachuca-photo2-2018.jpeg
626
640
MWDTSA
https://www.mwdtsa.org/wp-content/uploads/mwdtsa-website_headerlogo-01-2020-300x138.png
MWDTSA
2018-12-07 11:46:26
2020-04-04 16:21:49
Fort Huachuca: kennel visit recap