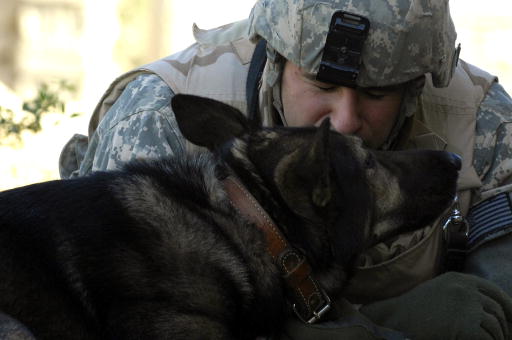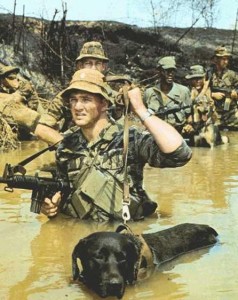 It is often said that a picture is worth a thousand words. For me, sometimes it's even more than that.
Years ago, even before 9-11, as I started to learn about the role of Military Working Dogs in Vietnam, I ran into a couple of photos posted on a website that were just so compelling to me that I felt that I had to get involved. Both photos were of dogs and handlers from the 47th Infantry Platoon Scout Dog in Vietnam. The one that I have permission to use is attached. If you look at the photo, the face of the young man and the dog reveal tomes about being in a war.
I have been honored to have an opportunity to meet this young man, who is now many years older, at a reunion at Fort Benning back in 2002. And, although I told him then that a great deal of my passion for this work started with the connection I felt to that photo, I'm not sure he really fully understood. It haunted me.
Equally compelling is the photo of a dog handler following the lead of a labrador retriever through the dangerous waters of Vietnam. Following this dog team are the remaining members of a Combat Tracker Team.
If we fast forward to our current missions and operations in Iraq and Afghanistan, I've been lucky to have received and uncovered many wonderful photos over the years. But again, but a few really stand out to me as photos that tell a full and valuable story about how two friends, one human and one canine, can combine into a force mulitiplier and make the world safer for all of us. Yes we do owe them all a debt of gratitude, but I think in these simple and straightforward photos you will clearly see the love that runs up and down that leash, the commitment to the mission and the unique work and nature of a military working dog and his handler. I think you'll see it if you look with your heart. As one of my all time favorite books Le Petit Prince is quoted, "On ne voit bien, qu'avec le coeur." One only truly sees with the heart. If you open your heart, it's all so hard to miss.
Dog handlers, past and present we salute you all! Stay safe.
Dixie
Photo credits:
Olivia, a military working dog, sleeps next to her trainer inside a U.S. Army Stryker after a morning of conducting vehicle searches in Mosul,. (U.S. Air Force photo by Tech. Sgt. Michele A. Desrochers) (Released)
A U.S. Marine and military working dog, Marty. take a break as they conduct training. f. (U.S. Marine Corps photo by Sgt. Jennifer L. Jones) (Released)
U.S. Air Force Staff Sgt. Russell McLaughlin, takes a moment to scratch the back of his military working dog after the completion of a raid in the village of Tall Qabb village, Kirkuk province, Iraq.. (U.S. Air Force photo by Staff Sgt. Samuel
U.S. Air Force Senior Airman Maurice Hoffman, a K-9 military working dog handler attached to the 10th Mountain Division, rests with his working dog after a cordon and search in the village of Al Kahn in Kirkuk, Iraq,. (U.S. Air Force photo by Staff Sgt. Samuel Bendet) (Released)
https://www.mwdtsa.org/wp-content/uploads/Maurice-Hoffman-and-dog.jpg
340
512
MWDTSA
https://www.mwdtsa.org/wp-content/uploads/mwdtsa-website_headerlogo-01-2020-300x138.png
MWDTSA
2009-05-08 00:00:00
2020-04-04 16:04:13
We owe a debt of gratitude.