A Memorial to Keaton G. Coffey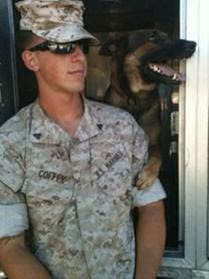 Cpl. Keaton G. Coffey, 22, of Boring, Ore., was killed on May 24 while conducting combat operations in Helmand province. He only had three weeks left on his tour during his second deployment to Afghanistan when he was killed. He was scheduled to return back to his base, Camp Pendleton.
Coffey's dog, Denny, survived.Keaton G. Coffey was an only child and was engaged to be married July 14 to Brittany Dygert, whom he met through his mother.
He  was assigned to 1st Law Enforcement Battalion, 1st Marine Headquarters Group, 1st Marine Expeditionary Force.
Fellow Marines spoke of Coffey's kindness, passion for his work, commitment and the natural abilities that helped him excel as a dog handler with his canine partner, Denny.
His former principal at the Damascus Christian School described Coffey as "every parent's dream."
He was the student body president during his senior year.  A former teacher said that Coffey planned eventually to follow in his father's footsteps and become a firefighter. His father spent more than 35 years at Portland Fire and Rescue.
MWDTSA was supporting this unit in Afghanistan when we learned of his loss though our Point of Contact.  This was devastating for all of his fellow Marines as they had already been through so much together.  Our hearts go out to his fiancee, family, friends and the entire K9 community.
Rest in Peace, young Marine.
Many thanks to our friends at the VDHA for their help on the photo and this memorial info.
https://www.mwdtsa.org/wp-content/uploads/sgr-Keaton-Coffey-and-denny.jpg
279
209
MWDTSA
https://www.mwdtsa.org/wp-content/uploads/mwdtsa-website_headerlogo-01-2020-300x138.png
MWDTSA
2012-08-07 00:00:00
2018-09-23 16:57:52
A Memorial to Keaton G. Coffey