A Memorial to Dick A. Lee, Jr.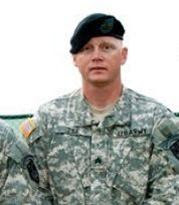 Sgt. Dick A. Lee Jr., 31, of Orange Park, Fla., died April 26 in Ghazni province, Afghanistan, from injuries when an IED destroyed his vehicle. He was on his fourth tour of duty, having served previously in both Iraq and Afghanistan. His dog, Fibi, was also killed in the explosion, as was another soldier.
Dick A. Lee Jr.'s commanding officer remembers him as a great soldier and dog handler. "Always quick with a smile and laugh, he was the kind of person you always wanted to be around," noted Col. Brian Bisacre.
"Sgt. Lee was a consummate professional. He attacked every mission with passion and strived to be the best at everything he was asked to do. Sgt. Lee lived and breathed the Army and was a dedicated father, husband, son and soldier. He will never be forgotten."
He is survived by his wife Katherine G. Lee and sons, David and Joshua.
Thank you to the VDHA for your information.  While we never had the chance to meet this amazing handler, we do know many people who reflected the light of his life.  He sounds like he was simply a great guy.
May you rest in eternal peace.
Something Beautiful Remains
The tide recedes but leaves behind
bright seashells on the sand.
The sun goes down, but gentle
warmth still lingers on the land.
The music stops, and yet it echoes
on in sweet refrains…..
For every joy that passes,
something beautiful remains.
Author Unknown
https://www.mwdtsa.org/wp-content/uploads/sgt-Dick-Lee-orange-park-florida-profile-picture.jpg
205
179
MWDTSA
https://www.mwdtsa.org/wp-content/uploads/mwdtsa-website_headerlogo-01-2020-300x138.png
MWDTSA
2012-08-03 06:50:00
2018-09-23 16:58:06
A Memorial to Dick A. Lee, Jr.