KONGs for K9s: How pet stores and veterinary clinics can take part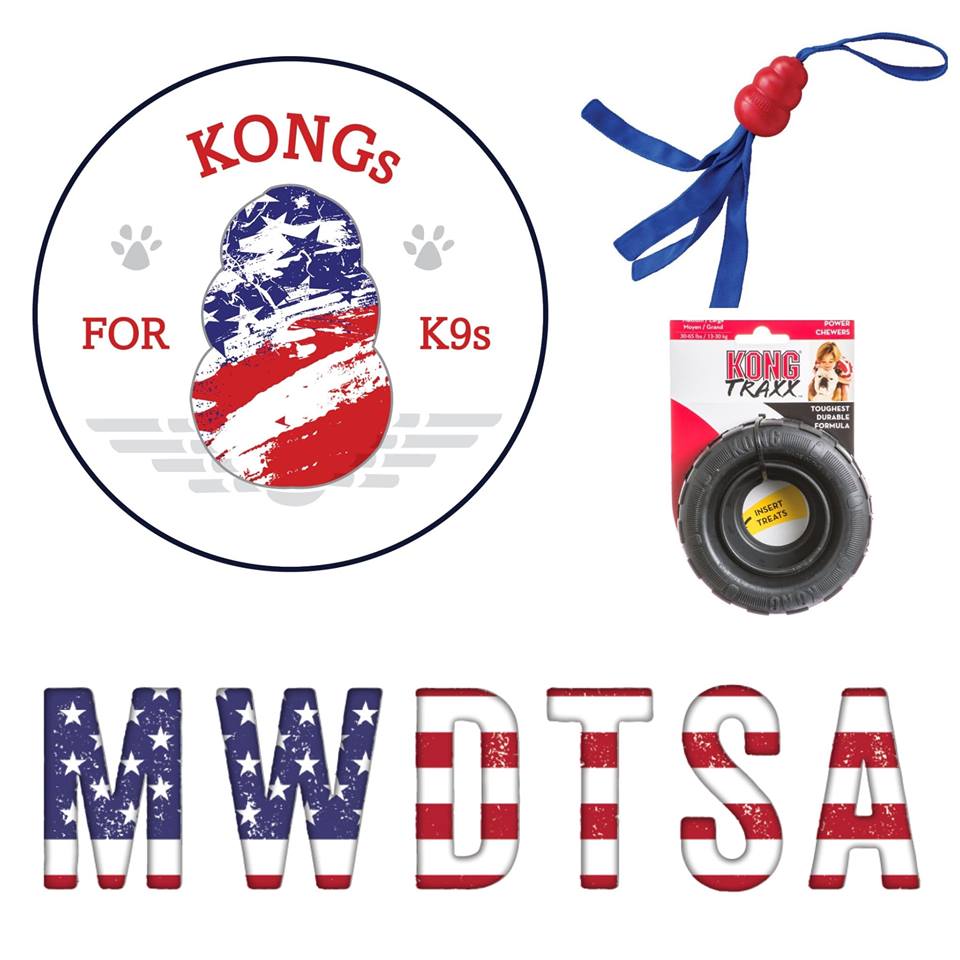 The annual KONGs for K9s drive kicked off on August 1 and will continue through December 31, 2018. It's a collaboration between MWDTSA and KONG Company. The matching program helps us provide KONG toys to military working dog teams deployed in global combat zones.
Here's how the KONGs for K9s program works…
Participation is easy:
Pet stores, clinics, and other dog-loving enterprises pick a month or more to take part. You collect one or both of the specific KONG toys shown in the photo above: https://www.kongcompany.com/products/for-dogs/rubber-toys/extreme-rubber-toys/kong-tires/ and/or https://www.kongcompany.com/products/for-dogs/rubber-toys/interactive-rubber-toys/tails/.
MWDTSA will provide you with posters for your store, describing the initiative.
You order in a supply of the toy and create a display to draw customers' attention to the matching program. Some retailers place the display by the register and ask every customer, "Would you like to donate a KONG to a military working dog deployed in a global combat zone?" This active approach often results in more donations.
Your patrons purchase the KONGs at regular retail price (or whatever price you set) and leave them with you at the register. Some stores set up visible donation bins so that customers can see the number of donated toys. Other stores tuck the donated KONGs in a back room.
At the end of the drive, MWDTSA will pick up the donated KONGs from your store, if we have a volunteer in your local area. If we don't have a volunteer near your store, we will provide shipping instructions on how to get them to us.
Once we receive your toys, we document the quantity and notify KONG. For each toy donated by your customers, KONG is matching with a second toy.
Calling all dog-loving businesses
There's still time to sign up for 2018. Just contact president@MWDTSA.org if you'd like to take part. Indicate the name and address of your organization. Also, specify which month works best for your KONG donation drive, and which toy above you'd like to collect. We will get the posters to you right away.
While most KONGs for K9s participants are pet-related businesses, that's not a requirement. In 2017, our largest KONG total came from Veterans United Craft Brewery. We also received KONGS from CrossFit Invasion, a fitness studio in New York!
Thanks for your interest and support!
https://www.mwdtsa.org/wp-content/uploads/mwdtsa-kenneltalkblog-kongs4k9s-photo-20180905.jpg
960
960
Leigh Steere
https://www.mwdtsa.org/wp-content/uploads/mwdtsa-website_headerlogo-01-2020-300x138.png
Leigh Steere
2018-09-05 13:13:24
2022-10-30 10:04:44
KONGs for K9s: How pet stores and veterinary clinics can take part