Fort Campbell and friends: kennel visit recap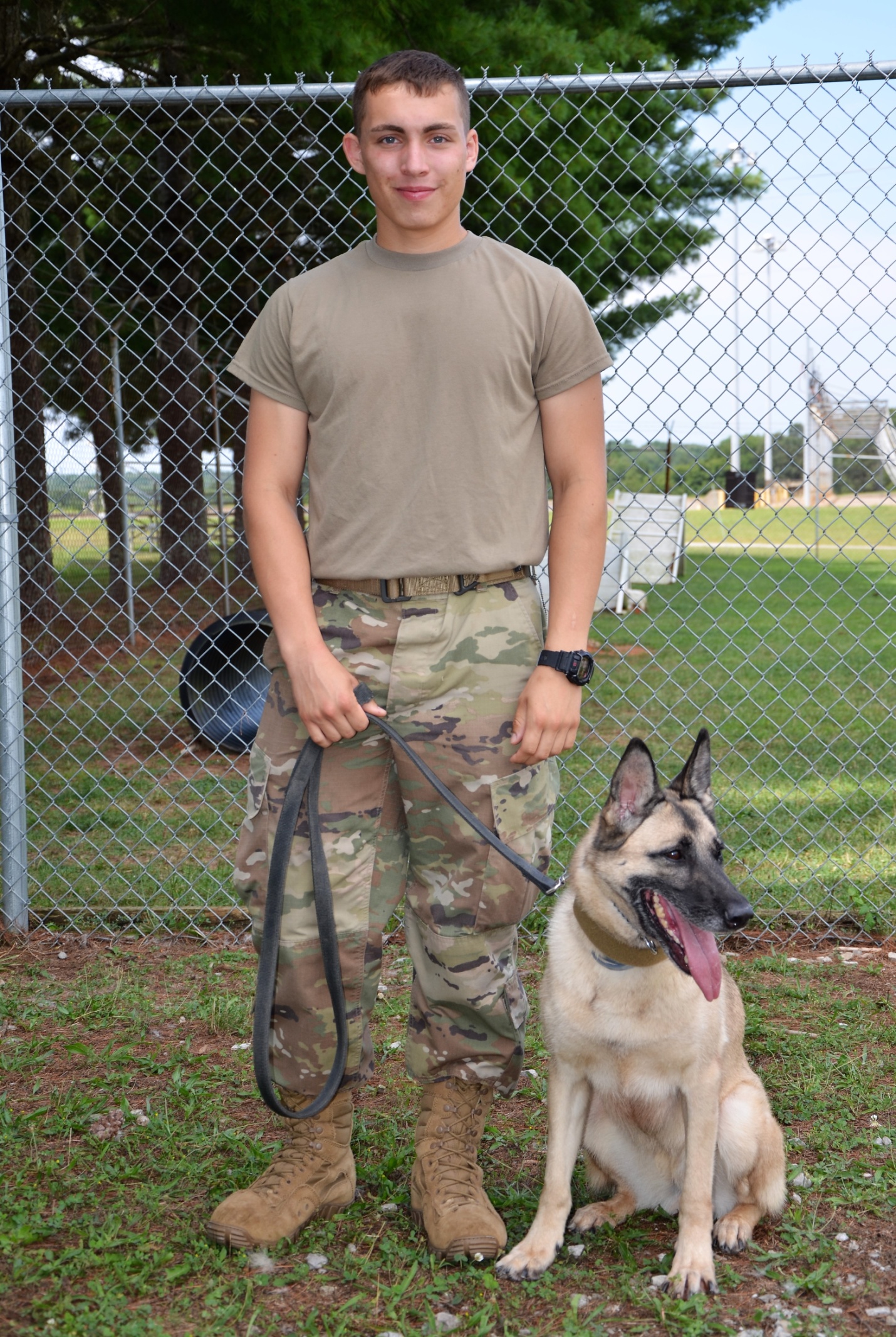 During a recent MWDTSA visit to Fort Campbell, this young team provided a great demo on the obstacle course.
Story and photos by Dixie Whitman
Three cars, arriving separately, ferreted out the correct Fort Campbell gate. This was no small feat, given the base spans over 100,000 acres, straddling the Tennessee/Kentucky border. This expansive base has a big mission: "Fort Campbell sets the standard for integrating and delivering installation services and base support to ensure readiness, empower resiliency, and enable our soldiers, families, civilians, retirees, and community partners to remain…..unmatched!"
Old friends in new places
We coordinated the event with the Kennel Master (KM), a friend whom MWDTSA supported on his last deployment to Afghanistan as a dog handler. He no longer holds the end of a leash but, in his role of Kennel Master, embraced plans for our first Fort Campbell visit. The Army, however, stirred the pot and just days before our arrival, promoted him to a new assignment and installed a new KM, SSG IaFelice. Fortunately, SSG IaFelice hit the ground running and our plans never wavered. It was especially reassuring to know that two other aces-in-the-hole, SSG Vaughan, a wonderful friend from a previous base visit to Fort Jackson and SSG Espinosa, a previous Fort Benning handler, hustled behind the scenes to ready the kennels for our visit.
The Fort Campbell bench is deep
Fort Campbell has a large kennel. In sports terminology, the bench is deep. After introductions, SSG IaFelice invited us to walk through the facility. Handlers stood beside their dogs' enclosure doors. Our volunteers and guests were able to interact individually with each team. This allowed people to have more detailed and focused conversations while asking in-depth questions. These meet-and-greets allowed the handlers a moment to brag about their dogs.
The levels of experience in this kennel guarantee that newer handlers and dogs have dedicated K9 professionals to lead, teach, and mold their younger comrades into polished, certified teams. Some of them recently graduated from dog school, which means that MWDTSA guests witnessed a variety of skill levels both in handlers and in their dogs. It was inspirational to see the transfer of experience and knowledge during the demonstration exercises.
Pizza and presentations
Four MWDTSA volunteers attended, along with some additional guests, including Ruth and Robert Conroy of the Betsy Ross Foundation. This foundation sends substantial support to our dog teams via MWDTSA. In their honor, we gifted the kennel at Fort Campbell with a small office Keurig machine. In a breathtaking coincidence, the flag flown on MWDTSA's behalf as a thank you gift and presented to the Betsy Ross Foundation several years ago was originally flown for us by SSG Espinosa. A joyful smile spread across Ruth's face when she met him.
MWDTSA never attends a base visit empty-handed. We brought KONGs and Chuck-It Balls for the dogs. For the handlers, we provided T-shirts, water bottles, and a gigantic decorated tub filled to the brim with tasty treats. The wonderful folks from the Betsy Ross Foundation also gifted a bottle of savory Allegro Marinade to all attendees. (Shout out to Allegro: We have switched marinade allegiance. Best. Marinade. Ever.) Additionally, MWDTSA provided a lunch of salad, Luigi's pizza, drinks, and one of our guests brought a beautifully decorated MWDTSA cake.
A memorable base visit for so many reasons
As MWDTSA volunteers, we spend much of our time working independently from our homes scattered across the country. While that gives us a wide swath of reach, it also means our volunteers often work diligently with people they've never personally met. It was my absolute honor to meet volunteers Shelli and Randel from Nevada for the first time. They embody dedication, capability, and honor. I also treasure the personal introduction to Ruth and Robert, the fine folks behind the Betsy Ross Foundation. And, as always, the young men and women who work with our amazing military working dogs remain focused and fabulous.
What a phenomenal experience for us all, thanks to the military working dog teams at Fort Campbell!
********************************************
MWDTSA thanks its generous donors for making stateside kennel visits possible. To learn more about how you can support our nation's military working dog teams, visit https://www.mwdtsa.org/donate/.
https://www.mwdtsa.org/wp-content/uploads/mwdtsa-kenneltalkblog-fortcampbell-photo1-20181016.jpg
2133
1430
MWDTSA
https://www.mwdtsa.org/wp-content/uploads/mwdtsa-website_headerlogo-01-2020-300x138.png
MWDTSA
2018-10-16 16:38:45
2020-04-04 16:21:49
Fort Campbell and friends: kennel visit recap