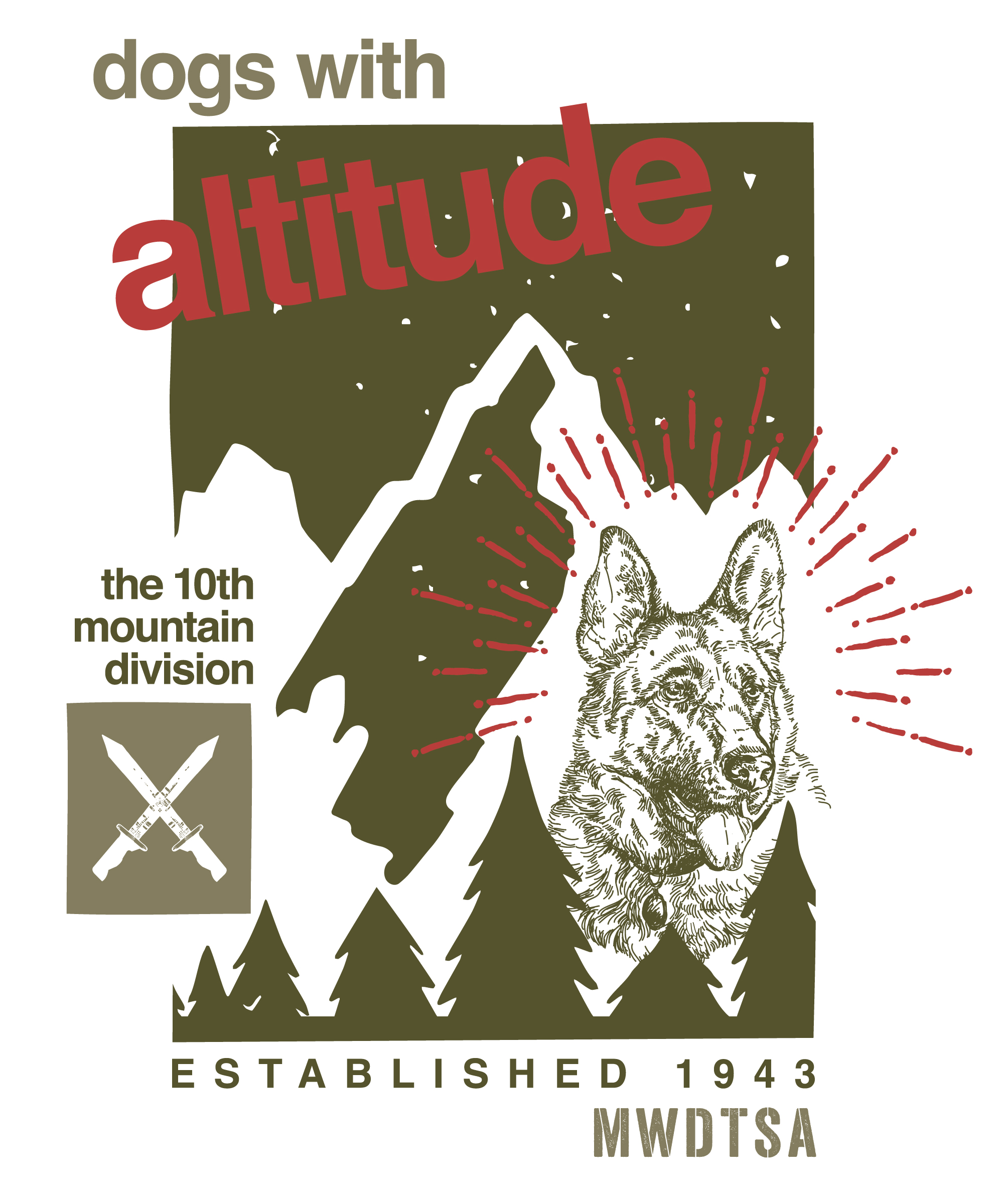 For the first time in its eleven-year history, MWDTSA will be assembling its quarterly care packages in Colorado, for shipment to dogs and handlers in conflict zones around the world. Each quarter, we decide a theme and build the boxes around that motif. Pirates, ice hockey, superheroes, and football are a few recent examples. Our Q1 packing team brainstormed various Colorado themes. Snow sports, mining, mountains, or simply "With Love from Colorado." In the end, though, we landed on "Dogs with Altitude: 75 years of faithful service." We're honoring the 75th anniversary of the nation's formal MWD program and Colorado's role in the earliest MWD training efforts.
U.S. military dogs before 1942
Dogs have helped soldiers around the world, dating back millennia. Ancient Egyptians, Greeks, Romans, and other groups utilized canines for defense and more. There are stories of American dogs in the Civil War and World War I. However, there was no formal U.S. war dog program until 75 years ago.
Starting in the late 1930s, enthusiastic civilian breeders and dog lovers volunteered to train and supply canines for U.S. military use. In The Quiet Americans, author Tracy English writes, "One of the most famous groups was 'Dogs for Defense.' They came into being immediately after the attack on Pearl Harbor. Along with help from the American Kennel Club, the group aimed…to develop a large trained canine force for use in civilian plants and in the Army if the call ever came."
Army pulls the war dog program in-house
The military's need for canines, however, quickly outpaced Dogs for Defense's ability to deliver. The problem involved more than inability to meet a numeric quota. According to uswardogs.org, "an Army inspection in June (1942), three months after the program began, revealed that the dogs in training had made little progress. This was due largely to the fact that available instructors generally were inexperienced in teaching sentry dogs. They were unfamiliar with military conditions. Most of them specialized in preparing animals for routine obedience tests or field trail work. Another striking weakness of the program was the failure to teach men to handle the dogs. This defect was due primarily to the fact that the Army did not make enlisted personnel available for this purpose."
As a result of this inspection, "the Army transferred control of the procurement and training of dogs to the Remount Branch, Service Installations Division in June 1942," explains English. "Previously, the Remount Branch had responsibility for procuring horses and mules for military service. So, they were in good condition to switch up their procedures to procure dogs. The first large request for dogs came from Camp Hale in Colorado. They wanted over 100 dogs for use as messenger, sledge and scout dogs."
Dogs with the 10th Mountain Division
With the transfer of the dog program to the Remount Branch, the Army embarked on developing a new canine training program during the summer of 1942. The dogs at Camp Hale and their soldier-handlers were among the first MWD teams to take part in the new training, in field conditions.
At 9,200-feet in elevation, with surrounding areas climbing to over 12,000-feet, the Army built Camp Hale to prepare soldiers for wintry, high-altitude combat in Europe. According to ColoradoEncyclopedia.org, "the U.S. Army's first and only Mountain Infantry Division took shape at Camp Hale over the winter of 1942–43. All the troops arrived at Camp Hale by January 1943. The valley buzzed with the activity of thousands of soldiers training for war. At its height, the camp had more than 1,000 buildings and housed about 15,000 troops."
Man's best friends boost morale
The encyclopedia entry goes on to say, "enlisted men learned how to survive in winter conditions and fight in the mountains. They practiced skiing, snowshoeing, and technical mountain climbing. Training was hard, requiring marches and maneuvers with heavy packs at high altitude. Soldiers often suffered from altitude sickness, frostbite, and low morale worsened by a lack of nearby entertainment options."
Anecdotal evidence suggests that the dogs serving at Camp Hale did more than just their day-to-day work. They provided a much-needed morale boost and occasional comic relief amidst the harsh training conditions.
Our Q1-2018 care packages will commemorate these early teams and Colorado's MWD heritage. MWDTSA is honored to celebrate the legacy of these intrepid handlers and dogs—75 years strong.
If you would like to contribute items for the care packages or donate toward postage, visit MWDTSA.org for more information on how you can help.
(A version of this piece originally appeared in the December 2017 issue of Kennel Talk.)
https://www.mwdtsa.org/wp-content/uploads/mwdtsa-2018Q1GraphicFinal.jpg
2396
2009
Leigh Steere
https://www.mwdtsa.org/wp-content/uploads/mwdtsa-website_headerlogo-01-2020-300x138.png
Leigh Steere
2018-01-12 13:48:05
2022-10-30 10:02:35
Dogs with Altitude: Gearing up for Q1-2018 care packages