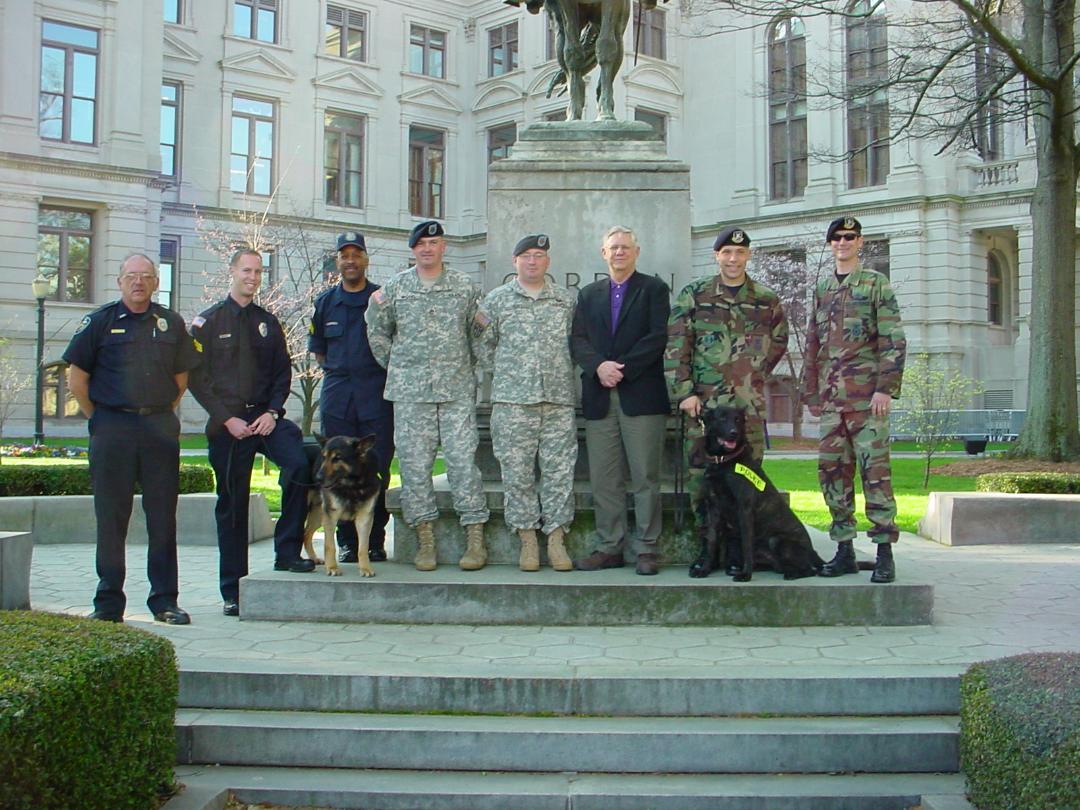 Photo: Active duty and Vietnam veteran dog handlers stand before the Georgia State Capital in 2007, a few weeks after Dixie Whitman and Ken Besecker founded MWDTSA. That day, Georgia Governor Sonny Perdue signed MWDTSA's request proclaiming March 22, 2007 as Military Dog Handler Day in Georgia.

*********************************
Military Working Dog Team Support Association, Inc. (MWDTSA) began as a labor of love, co-founded by German Shepherd Dog enthusiast Dixie Whitman and Vietnam veteran dog handler Ken Besecker. Here's a glimpse of how it all started.
Meet Ken Besecker…
"The relationship between dog and man is an unbreakable bond," says Ken Besecker, who experienced this truism firsthand in Vietnam.
During the Vietnam War, the military classified K9s as equipment, not soldiers. But as Besecker and other veterans can attest, the estimated 4,200 military working dogs in Vietnam provided a variety of military skills. They tracked, scouted, and protected. They offered companionship, and occasionally, much-needed comic relief during this dark period of history.
Ken Besecker fell into the MWD world by happenstance. While attending the Infantry Officer Basic Course at Fort Benning, Georgia, a Captain from the U.S. Army Scout Dog Training Detachment asked if Ken would be interested in working with dogs. Ken's affirmative response led to an assignment with the Scout Dog Detachment. Ultimately, he served in Vietnam as Commander of the 62nd Infantry Platoon (Combat Tracker) and Training Officer at the United States Army Republic of Vietnam (USARV) Dog Training Detachment.
MWD handlers and their comrades entrusted their lives to K9s in Vietnam. "The dogs endured heat, rain, leeches, jungle vines, elephant grass, and many other discomforts," reports Besecker, "just to hear 'good dog' and receive a pat on the side or a scratch on the head."
They acted heroically, like the humans they protected.
"Vietnam veterans tell of dogs lying beside their wounded buddies or continuing to track or scout or guard in the face of any danger," adds Besecker.
In response to one particular mission, the military awarded an entire 62nd Tracker team a Bronze Star with a "V" for valor, citing heroism in combat. Since Otis, Tracker Dog number T019, did not have a uniform, the Division Assistant Commander pinned the Bronze Star on a yellow towel. This way, Otis could wear his award, too. Otis, by the way, was one of the few dogs to come home after the war.
Toward the end of the U.S. involvement in Vietnam, Ken Besecker traveled all over the country to pick dogs to return to the U.S. for reassignment. "It felt great to watch those first 50 dogs leave on planes for the U.S.," he recalls. "It wasn't until after the war that I learned most MWDs in Vietnam were declared 'surplus,' as if they were unneeded equipment, and left behind to face euthanasia or worse." Only 204 returned to the U.S.
Besecker wants to ensure the memory of these MWDs stays alive and that people know the important roles these K9 heroes served in Vietnam and continue to serve in conflicts today, protecting countless lives.
Enter Dixie Whitman…
Dixie has studied German Shepherd Dogs for 46 years, fascinated in particular by their tracking skills—the ability to follow an invisible trail and pick up scents left hours or days ago. The first web site she ever visited? The Vietnam Dog Handlers Association (VDHA), a group of veterans from the Vietnam War. The site contained a Q&A feature, so Dixie started asking questions.
Ken Besecker was one of several Vietnam veterans who answered those queries. He shared about the Vietnam dogs and their handlers. He described the tragic end many of these MWDs faced and the shameful welcome Vietnam veterans received upon their return home.
Dixie recalls, "It became clear to me that many of these veterans had never heard a simple thank you for their service." She set out to rectify this.
Through the VDHA dialogue, Dixie discovered that Ken lived less than 200 miles away. In 2002, she invited several Georgia-based Vietnam handlers to the Georgia Governor's office. That's where she met Ken and his wife Liz, face-to-face, for the first time. Dixie and Ken discovered they knew many people in common, as both were involved in the sport of dogs in Georgia.
Over the next four years, Dixie spent her own time and money sending care packages to deployed handlers and their dogs. Additionally, she helped organize events at Fort Benning. In 2006, Ken suggested establishing a nonprofit organization to facilitate fundraising and reduce Dixie's out-of-pocket expenditures.
"I wasn't thrilled with the idea," Dixie said, "because I had no idea how to run a nonprofit.  But Ken and I met at a reunion of his unit, the 62nd Combat Trackers, and discussed everything from a code of ethics to articles of incorporation. He fronted the money to hire an attorney to review our paperwork. And at last, we got Lois Lerner's signature on a 501(c)(3) letter." The Military Working Dog Team Support Association officially launched on November 13, 2006.
Reflecting on the early years
In preparation for its 10th anniversary in 2016, MWDTSA invited co-founders Ken Besecker and Dixie Whitman to reminisce about the organization's humble beginnings.  The following interview and the historical background above originally appeared in the November 2016 issue of Kennel Talk.
MWDTSA: What were some of the challenges in getting MWDTSA off the ground?
KEN BESECKER: We didn't have any money or previous nonprofit experience. The nonprofit designation was vital for making fundraising easier, but it took some time to get that engine started.
DIXIE WHITMAN:  Because we had no initial funding, we still did much of the MWDTSA work on our own dimes. Also, we were (and are!) a niche group, meaning we must focus on public education since many people don't know about MWDs.  Folks don't realize how impactful these dog teams are, and therefore we are not "top-of-mind" when people are making charitable donations or volunteering—until you get to know us.
We started with a tiny volunteer crew—maybe two or three people on a great day.  You know the old adage, "busier than a one-armed wallpaper hanger?"  I gathered experience in everything from writing press releases, to volunteer coordination, to publishing a newsletter, and pretty much every skill in between.
MWDTSA: What was MWDTSA's first project or event? How did you feel when you were launching that first event?
KEN: Top Dogs Pet Boutique, a pet store in Kennesaw, Georgia, hosted an open house for MWDTSA and donated a percentage of the day's proceeds to our organization. That gave us a spring board and felt like a stamp of legitimacy.
DIXIE:  We received the final IRS letter confirming our nonprofit status shortly before a 2007 Fort Benning event that I was helping coordinate. Two hundred people attended that program, where we enjoyed a stunning guest speaker from the Pentagon. I was thrilled that we had enough money to buy a gorgeous standing floral tribute for the event.
MWDTSA: Think back over the entire history of your efforts. What MWDTSA events particularly moved you?
KEN: Dixie had a friend who taught elementary school students. Her class colored pictures and gave those out at a reunion of the 62nd Combat Tracker platoon. It really inspired me to see people caring about what had happened in the past.
MWDTSA was also able to raise money for new pedestals at the War Dog Memorial in Fort Benning. A number of veterans and volunteers attended the dedication of these pedestals, and this sticks with me as a highlight.
Additionally, for several years, there was an annual event where selected dog teams from Georgia installations visited the state capitol. The governor signed a proclamation for Military Working Dog Appreciation Day. We had the proclamation framed, presented it to the various installations, and had a cookout and dog demonstration.
"It's been great to see the enthusiasm and bearing of today's soldiers, Navy folks, airmen, and Marines." —Ken Besecker
DIXIE: For me, there are a multitude of moments that stand out. I've been overcome by emotion on many occasions as I think about where I've come from and what this organization has gifted me.
One day, very early on, I was trying to send out a press release. It was my very first news release, and I had little idea of what I was doing. I wanted to get it to the Atlanta Journal-Constitution and wasn't quite sure how to go about contacting them.
The same day I wrote this press release, our Vice President, Ann Wilkerson, called to say she had just run into the wife of the military affairs writer for the Atlanta Journal-Constitution while visiting a new hair dresser. The chances of her running into the exact connection that I needed out of 4.67 million folks in Greater Atlanta were pretty slim. The press release and that connection were a real success for the MWD program at Fort Benning.
"Even today, when I think back on it, I sometimes have to pull my car over, as it is still very emotional to me." —Dixie Whitman

Last year, I attended a memorial for a Marine dog we had supported on his deployment in Afghanistan. At that event, all three of this dog's handlers were in attendance and shared personal stories with me of their time working with him. I felt beyond honored to have been included in the sharing of such precious and personal memories. This experience culminated in one of my favorite Kennel Talk articles ever.  If you haven't read it, check out the cover of the August 2015 issue.
All of the handlers mean a lot to me. Some of them become really close friends, and I love that they ask me to support their friends as well. I am humbled at the quality and caliber of men and women who work with these dogs, day in and day out, to keep us all safe. Knowing that I've made a difference in the lives of these extraordinary heroes who have been in harm's way is beyond special. I am honored to call so many of them friends.
https://www.mwdtsa.org/wp-content/uploads/mwdtsa-history-GovernorProclamationSigning-2007.jpg
810
1080
Leigh Steere
https://www.mwdtsa.org/wp-content/uploads/mwdtsa-website_headerlogo-01-2020-300x138.png
Leigh Steere
2020-01-02 22:33:18
2020-04-04 17:05:01
Ken Besecker and Dixie Whitman share MWDTSA's history