A Memorial to Jason L. Norton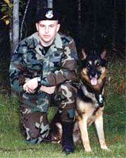 Sgt. Jason L. Norton, 32, was killed in action Jan. 22, 2006, in Taji, Iraq, when his armored Humvee was struck by an IED. He was a patrol and dog-unit NCO assigned to 3rd Security Forces Squadron at Elmendorf Air Force Base, Alaska. Sgt. Norton, a patrol and K-9 officer, had been stationed in Alaska in 2002-2004. Sgt. Norton was a native of Miami, Okla., and left a wife and two children.
This is the second of several memorials that I will be placing on the Blog. I've personally always had trouble writing about our Handlers and Dogs who have died because I feel it can be very intrusive on the families and we certainly want to show them respect. Fortunately for me, Dennis Herrick, the editor of DOGMAN, with whom I have have shared some of my articles, did me the courtesy of sharing a gracious and respectful set of memorials with me. They will be posted on the Blog one at a time. With each posting, I hope you will remember the team, the handler's family and friends who still mourn and the military family left to mourn a loss of their own.
With deep respect,
Dixie
https://www.mwdtsa.org/wp-content/uploads/Jason-L.-Norton.png
158
126
MWDTSA
https://www.mwdtsa.org/wp-content/uploads/mwdtsa-website_headerlogo-01-2020-300x138.png
MWDTSA
2011-08-05 09:41:00
2016-08-17 10:54:47
A Memorial to Jason L. Norton