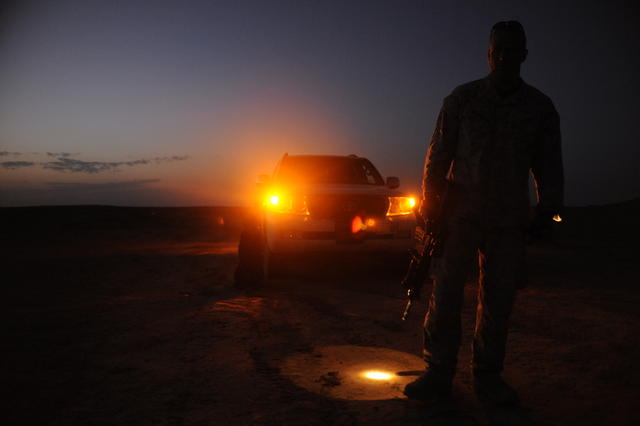 With my new job, hours are taking me later into the evening, which is a totally new experience for me. I'm not fond of the hours, but you do what you've got to do. Without getting too sappy or dramatic, I do think about our deployed dog handlers, as well as all of the other men and women working in harm's way many times throughout the day. When I saw these photos of the handlers working at all hours of day and night, and knowing how exhausted I am from just a little tweak in my schedule, it makes me respect what they do even more.
Here are a couple of photos of Marine buddy Chris and his MWD Lucca working in Al Qadasiyah and Diwaniyah, Iraq (both photos taken by Sr.A Eric Harris).
---
Checking empty lots in Iraq are USAF handler SSgt. Francies from Offett AFB with a photo taken by SrA Daniel Owen.
Also, working late are dog teams photographed by Pfc. Rhona Roth-Cameron in Basra. (No name was included for the dog or handler.)
In the last photo MWDs Timmy and Chay take a bite out of Navy handler, USNavy Petty Officer 1st Class Sergio Sandoval in a training exercise.(Photo by Sr.A Julianne Showalter.)
Our thoughts and prayers go out to these handlers and their dogs as they face down the demons of the night for all of us.
https://www.mwdtsa.org/wp-content/uploads/Small-version.jpg
426
640
MWDTSA
https://www.mwdtsa.org/wp-content/uploads/mwdtsa-website_headerlogo-01-2020-300x138.png
MWDTSA
2009-03-12 23:37:00
2020-04-04 16:03:02
Night Shift