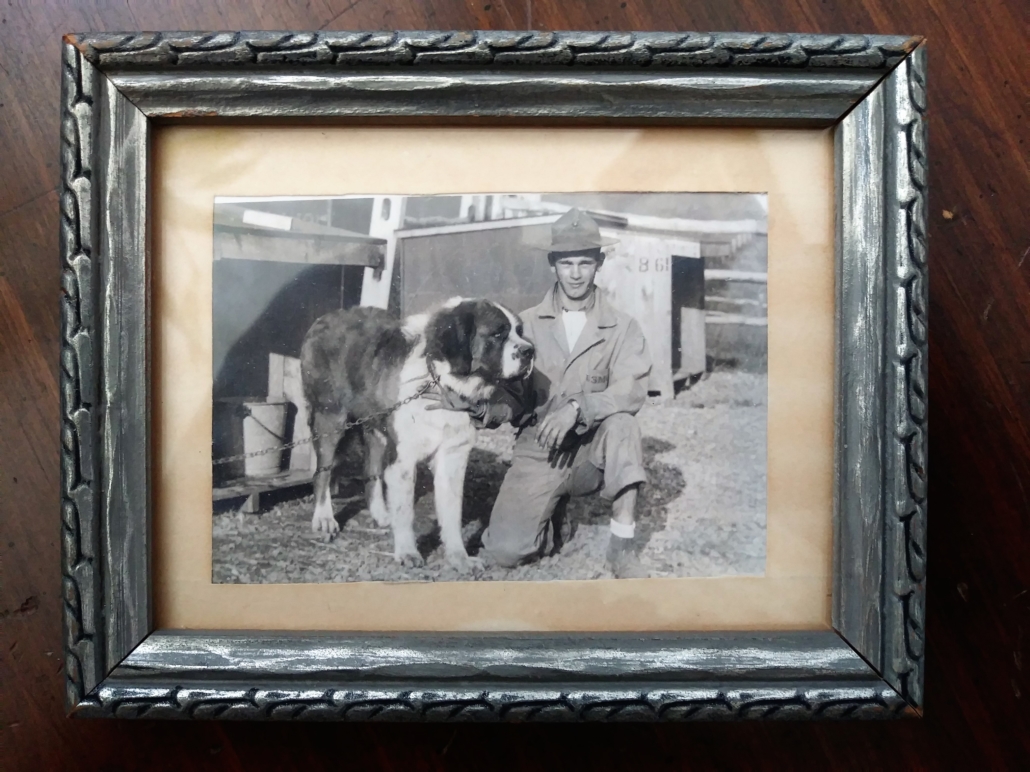 My heart dropped when I received word recently that Homer Finley had died.
As the last surviving member of the 1st Marine War Dog Platoon, he was a living link to the earliest days of our nation's military working dog program. At the time he served, he was part of an experimental, unproven initiative.
"Many of the Marine troops doubted that dogs could be put to any practical use in combat and grumbled that they would just get in the way." (War Animals by Robin Hutton, page 62)
Joining the war effort
News of Pearl Harbor traveled like wildfire through Southside High School in Elmira, New York, where Homer Finley attended. Many 12th-graders were old enough to enlist right away and abruptly left school to join the war effort. Sixteen-year-old Finley and his 11th-grade buddies eyed the seniors with envy. He wanted to enlist, too, but he was underage.
Finley and his best friend begged their parents to sign permission forms allowing them to enlist at 17. Finley's dad finally acquiesced, but his best friend's parents said no.
The first weeks
Attracted by the blue uniform and stories of Marine fighting tactics, Finley chose to enlist as a Marine. After a 10-week boot camp in Parris Island, South Carolina, he reported for duty at Naval Air Station Jacksonville in Florida. His first night involved a 12-to-4 watch, patrolling inside an administrative building. He walked around with a gun that had no ammunition.
Other responsibilities included working Main Gate security to ensure service members weren't sneaking in alcohol or other contraband.
Monitoring office buildings wasn't quite the job he had envisioned. So, when he heard an announcement seeking volunteers for a "job involving dogs," he raised his hand.
Learning the ropes
When he arrived at Front Royal, Virginia, he beheld acres of dog houses.
At the time, the military did not have its own dog procurement or breeding programs. Instead, the fledgling war dog effort relied on donations. Breeders offered stock from their kennels. Civilians donated their personal pets.
"Everyday Americans making animal donations were proud of making profoundly personal sacrifices. They were giving up cherished pets freely and unconditionally, receiving in turn neither compensation nor any guarantee their dogs would return safely at the end of the war. Donating their dogs was a patriotic act and a way for Americans to become personally invested in the war effort." (Hutton, 9)
At Front Royal, "we started obedience training with dogs we thought would be useful," recalled Finley. The training involved quite a bit of trial and error, since the military had not yet developed formal training protocols.
One exercise involved hide-and-seek. The instructor asked one group of handlers and their dogs to hide and camouflage themselves in the landscape so the other dogs couldn't find them. (Editor's note: This cracked me up, because clearly they were underestimating dogs' noses.)
Mr. Finley and a Beagle mix crawled into some brush. As they waited to be found, Mr. Finley inadvertently dozed off in the warm sunshine. The mutt barked sharply as "finders" approached, giving away their position.
Back to Jacksonville
At the end of the training program, Mr. Finley returned to NAS-Jacksonville with three sentry dogs and instructions to train two Navy sailors in how to handle them. The three handlers lived away from the main base activity, tending to the dogs and their kennels.
Not long after, Mr. Finley received orders to report to Camp Lejeune, where USMC had established its own dog training facility. That's where he began preparing for his eventual deployment with the 1st Marine War Dog Platoon.
Patriotism
What struck me when talking with Mr. Finley is how many individual acts of patriotism were involved in creating the U.S. War Dog program:
17-year-old Finley wanted to enlist to help his country.
His parents said yes, knowing their son could be injured or killed.
Families—and even children—donated their personal pets.
A Hollywood dog trainer helped the 1st Marine War Dog platoon prepare for deployment.
…and the list goes on. It was a collective effort, involving citizens from all over the United States.
"'Pop, if Jack can save lives, I want him to go in,' declared 11-year-old Bobby Verhaeghe through tears." (Hutton, 75; Jack was one of the dogs Homer Finley worked with.)
Chance
The other thing that struck me…Several things happened along the way that could have delayed or prevented Mr. Finley's deployment. For example, the 1st Marine War Dog platoon traveled by train from Camp Lejeune to Camp Pendleton for the next stage of their training. The journey took five days, and the dogs traveled by boxcar in crates. At every stop, the handlers got off the train to exercise the dogs.
At one spot in Texas, the conductor announced an extended stop. Several Marines, including Homer Finley, decided to run into town to buy a case of beer. As they were returning, the train whistle blew. They double-timed it, barely making the train before it pulled away. What if they had missed their ride?
Another example: During training in California, Mr. Finley and a couple of his comrades had a day of leave. They went to Laguna Beach, where they happened to meet some girls who lived in Hollywood. One of the Marines managed to get a phone number, and all three applied for leave so they could see these gals again. Their CO approved the leave but said, "You can't go into L.A. because of the Zoot Suit Riots." The group went anyway, rationalizing that Hollywood was not the same as L.A.
When the Lieutenant in charge of the 1st Marine War Dog Platoon found out the group had gone to the city against orders, Mr. Finley thought this might be the end of his military career. The Gunnery Sergeant said, "I'm afraid I'm going to have to throw the book at you." Finley breathed a sigh of relief at the punishment: "restricted to barracks for one week."
Preparing for deployment
At Camp Pendleton, Finley's platoon trained in small boats. "There was lots of upchucking," he said. "Even some of the dogs got seasick."
"Hollywood dog trainer Carl Spitz had pioneered the use of hand signals to direct animals from beyond camera range. He trained the terrier that played Toto in the Wizard of Oz… At Pendleton, the dogs and men of the 1st Platoon received accelerated training from Spitz." (Hutton, 9, 61)
They eventually found their sea legs.
"On October 4, 1943, the regiment set sail for Empress Augusta Bay, Bougainville, in the Solomon Islands. It would be the first time the dogs and their handlers would be under hostile fire." (Hutton, 63)
Homer Finley in Bougainville
The 1st Marine War Dog Platoon included 24 dogs. Three of those were messenger dogs—Caesar, Jack and Thor. Homer Finley was one of six messenger dog handlers.
"The messenger dog was a lifeline between units—a reliable conveyor of communication in dense jungles where telephone wires had been cut or had never existed." These dogs "posed a difficult target for the enemy. He could find his way in daylight or darkness, through any kind of weather or terrain, and he was especially effective in the jungle."

"Every messenger required two handlers; the dog ran from one master to the other." (Hutton, 28, 29)
War Animals describes the Bougainville campaign in detail. It's a great read. Bottom line: the dogs and their handlers quickly proved their worth.
"The dogs became the eyes and ears of the Marines." (Hutton, 63)
Recollections
"I loved working with the dogs," said Finley. "It was rewarding that the program worked. The dogs saved lives."
Shortly after Finley got to Bougainville, the Marines reassigned him to the Raider regiment and gave him a crash course in demolitions. From that point on, he traveled with interpreters who tried to talk enemy combatants out of pillboxes and caves. Finley's job: to sling charges into openings to seal up hiding spots.
A subsequent injury in Guam resulted in medical evacuation to Hawaii. Once recovered, he returned to the mainland U.S. to finish out his four-year military service commitment.
MWDTSA remembrance
I never imagined I'd have the opportunity to meet a WWII handler, particularly one in my county.
One day, many months ago, I was staffing a MWDTSA information table at Chuck and Don's Pet Food and Supplies in Longmont, Colorado. Hosting educational events is one of my favorite parts of volunteering with MWDTSA. Occasionally, veterans or family/friends of active-duty handlers will stop by to introduce themselves. That particular day, a customer said, "You've got to meet my neighbor Homer Finley. He handled dogs in World War II and even knew Caesar!"
My first meeting with Mr. Finley took place in late summer 2019. When I think of 94-year-olds, I envision canes, walkers or wheelchairs. Mr. Finley used none of these. Still ambulatory, he shook my hand firmly and spoke with the steady voice of someone decades younger.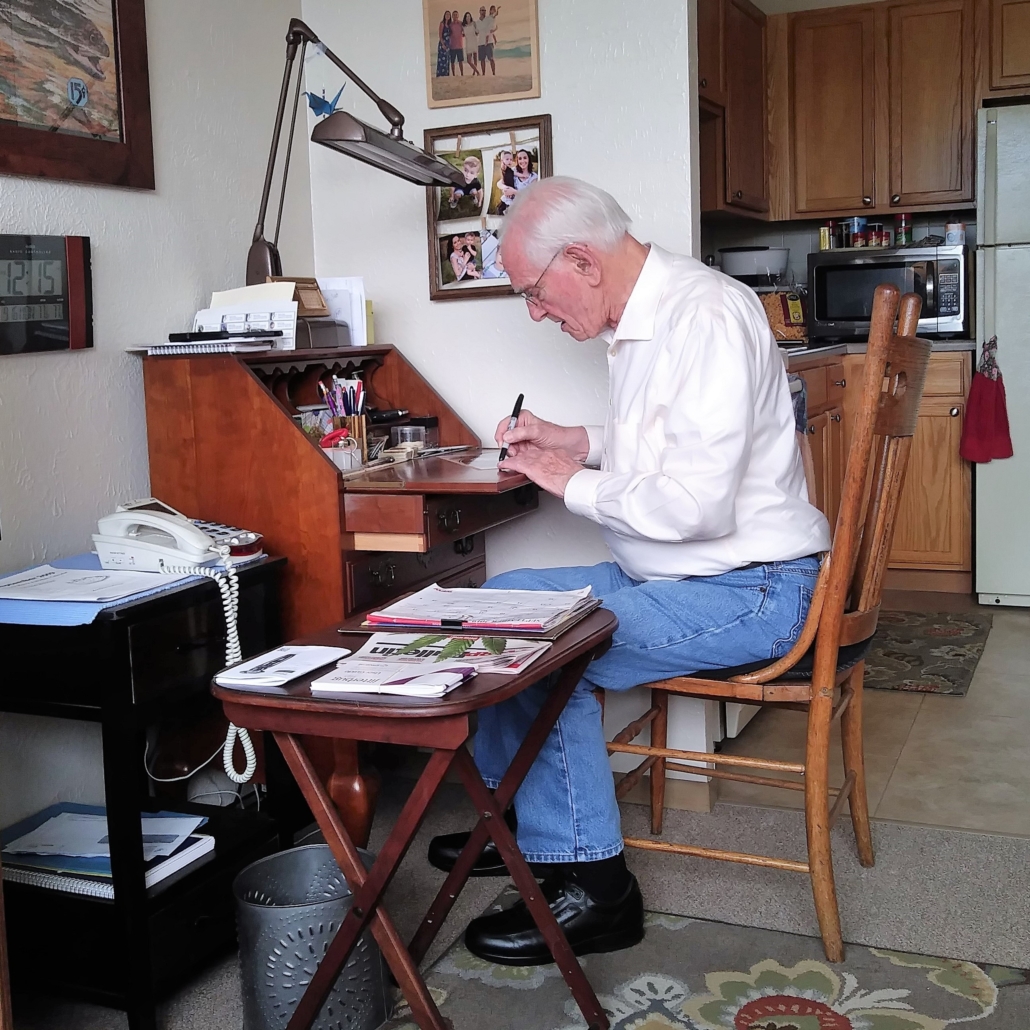 Above: Homer Finley sits at his writing desk, September 16, 2019.
Notebook and pen in hand, I took copious notes as he shared about his time in the service and with the dogs. Humble and down-to-earth, he remarked, "Really, I'm just a regular guy. All of us wanted to help in WWII. I don't know why people are making such a big deal about my service. You know, you are the third person to interview me recently."
The first was Robin Hutton, who included Mr. Finley's account in her book War Animals. The second was a researcher from University of Colorado-Boulder, who hoped Mr. Finley might have insights about Bougainville. And then me.
What Mr. Finley described is a level of patriotism that I have not seen in my lifetime. The U.S. rallied together after Pearl Harbor. Everyone wanted to do their part.
Just a few weeks ago, Mr. Finley celebrated his 95th birthday. He was still walking unassisted. He completely redefined for me what it means to age with grace. His zest for life and sense of humor will continue to inspire me for the rest of my years.
Featured image at top: This 1943 photo shows Homer Finley at Front Royal with an unnamed Saint Bernard. In World War II, the military utilized the Saint Bernard breed for hauling ammunition. Photographer unknown.
*********
Ryan Warner of Colorado Public Radio captured Mr. Finley's voice in this recent interview: https://www.cpr.org/show-segment/remembering-marine-private-first-class-homer-finley-of-longmont/
https://www.mwdtsa.org/wp-content/uploads/0916191220-2-scaled.jpg
1920
2560
Leigh Steere
https://www.mwdtsa.org/wp-content/uploads/mwdtsa-website_headerlogo-01-2020-300x138.png
Leigh Steere
2020-09-07 23:04:39
2020-09-07 23:16:24
Remembering WWII Marine handler Homer Finley